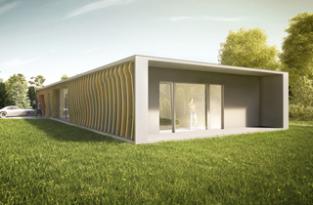 Stworzenie projektu domu idealnego dla inwestora nie jest prostym zadaniem. Zwłaszcza jeśli projekt wiąże się z pewnymi ograniczeniami, jak np. kształt czy powierzchnia działki. W tym przypadku znaczenie miały obie cechy. Mimo tego architektom z warszawskiej pracowni 81.WAW.PL udało się stworzyć nowoczesny, niebanalny projekt.
Ograniczenia działki, wizja inwestora oraz pomysł architektów pozwoliły na stworzenie wyjątkowego projektu – domu żyletki. Cechuje go zarówno prostopadłościenna bryła, niska, parterowa zabudowa, jak i bardzo charakterystyczne drewniane żyletki. W rzucie bryła budynku to - wymuszony przez kształt działki oraz odległości od granic działek sąsiednich - prostokąt.
Dom żyletka składa się z 3 części – garażu z zapleczem technicznym, części dziennej oraz części prywatnej. Centralną strefą domu jest strefa dzienna – salon z otwartą kuchnią oraz jadalnia, które tworzą jedną przestrzeń. Od zewnątrz część ta została podkreślona dużymi przeszkleniami zarówno od północnej, jak i południowej strony. Dzięki temu salon otwiera się na zewnątrz tworząc spójną całość z przestronnym ogrodem.
Strefa prywatna, tj. nocna znajduje się po prawej stronie od części dziennej. Ulokowano tu dwa pokoje dziecięce, łazienkę główną oraz tę dla gości, sypialnię wraz z garderobą oraz pokój gościnny, pełniący również rolę gabinetu. – Ciekawym rozwiązaniem jest duże przeszklenie w głównej sypialnie wychodzące na zachodnią część ogrodu – zaznacza Anna Paszkowska-Grudziąż, architektka z pracowni 81.WAW.PL.
Uwagę zwracają jednak przede wszystkim wspomniane żyletki umieszczone wzdłuż całej północnej oraz południowej elewacji. Za nimi ukryto okna do części nocnej. Dzięki temu od ulicy wertykalne elementy zapewniają więcej prywatności, gdyż do wnętrza można zajrzeć jedynie stając naprzeciwko okna. Od południa natomiast żyletki zapewniają zacienienie w sypialniach dziecięcych. – Żyletki to w założeniu jedyny rzeźbiarski element bryły – podkreśla Rafał Grudziąż, współautor projektu. – Są to parametryczne, pionowe żaluzje z drewna charakteryzujące się różnym kształtem. Zmienne kształty mają swoje uzasadnienie – dzięki nim udało się uzyskać wrażenie elewacja, która faluje na wietrze – dodaje architekt. Ponadto, żyletki nadają bryle lekkiej, zwiewnej formy. Trwałość zdobień zapewni odporna na warunki atmosferyczne sklejka szkutnicza, z której będą wykonane. Reszta elewacji zostanie wykończona tynkiem o jasnoszarej barwie.