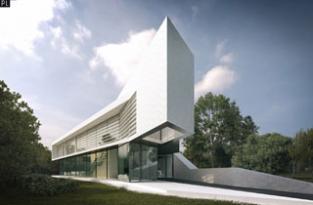 Siedziba firmy wyglądająca jak dom jednorodzinny to zdecydowanie niecodzienne rozwiązanie. Przygotowania takiej koncepcji podjęli się architekci z warszawskiej pracowni 81.WAW.PL. Efektem prac jest projekt niezwykłej bryły - domu biurowego. Nowoczesny, oryginalny kształt i spójna kolorystyka to cechy, które go wyróżniają. Ale nie brakuje tu także charakterystycznych nawiązań do nadmorskiego otoczenia.
Otoczenie domu biurowego to sopocki nadmorski krajobraz. - Stąd też, głównym założeniem projektu było stworzenie budynku, który swoim kształtem będzie swobodnie nawiązywał do nadmorskich form przyrody – wyjaśnia Anna Paszkowska-Grudziąż, architekt z pracowni 81.WAW.PL. Meandrujący kształt nasuwa na myśl skojarzenia z prądami morskimi – nieregularnymi falami morskich, które w ruch wprawia wiatr – dodaje Anna. Efektem współpracy z inwestorem było stworzenie koncepcji nierównomiernej bryły w stonowanej, ale jednocześnie mocno kontrastującej kolorystyce. Dlatego też dominuje biel przełamana czarnymi elementami, które podkreślają wybrane fragmenty budynku. Na uwagę zasługują również liczne przeszklenia, których celem jest maksymalne doświetlenie wnętrza.
Dom biurowy to przede wszystkim mocna, dynamiczna forma, gdzie nawiązania do fal morskich czy "gry" wody z piaskiem przejawiają się w każdym, nawet najdrobniejszym elemencie. – Nadmorski krajobraz był doskonałą inspiracją podczas tworzenia tego projektu – podkreśla Rafał Grudziąż, architekt z pracowni 81.WAW.PL. – Wykorzystaliśmy nawiązania do charakterystycznych elementów nadmorskiego krajobrazu. Wartym wspomnienia elementem jest odniesienie do gry świateł i wody – refleksyjnych odbić światła w tafli wody, które mają swoje odzwierciedlenie w lustrzanym suficie parteru budynku – dodaje architekt.
Dom biurowy stanowią dwie kondygnacje naziemne oraz jedna podziemna. Powierzchnia użytkowa to 800 m kw., zaś powierzchnia zabudowy – 430. W garażu umiejscowionym na poziomie -1 znalazły się pomieszczenia techniczne oraz miejsca postojowe na 5 samochodów. Na parterze budynku zaplanowano przestronny hol wejściowy, kuchnię oraz 3 sale konferencyjne – każda z niezależnym wejściem z korytarza. Na pierwszym piętrze znalazły się 3 pomieszczenia biurowe oraz reprezentacyjny hol recepcyjny. Dzięki przeszkleniom, które zajmują znaczną część konstrukcji budynku, wszystkie pomieszczenia są doskonale doświetlone.
Uwagę zwraca nie tylko nietypowy kształt, ale także elewacja bryły. Ciemne fragmenty w głównej mierze stanowią oprawę przeszkleń na piętrze budynku. Jasna, dominująca kolorystyka to baza, która tworzy dom biurowy. – Wzór na elewacji nie jest przypadkowy. Jak wyjaśnia Anna Paszkowska-Grudziąż, został zaprojektowany tak, aby ozdobna forma nawiązywała do znaku firmowego inwestora.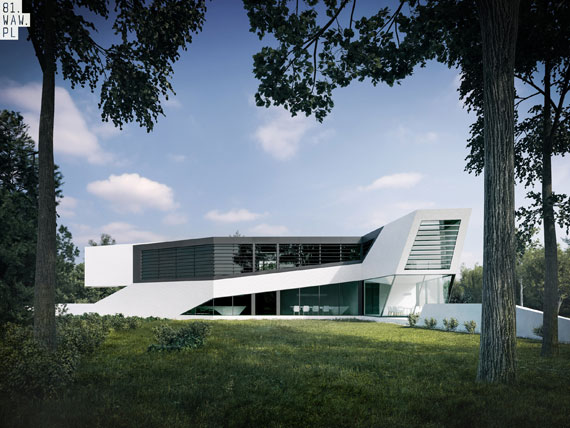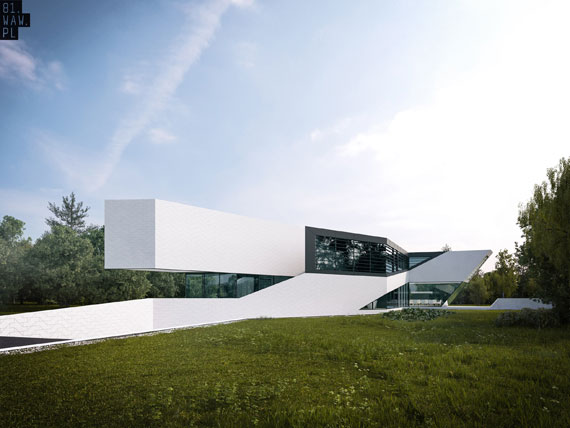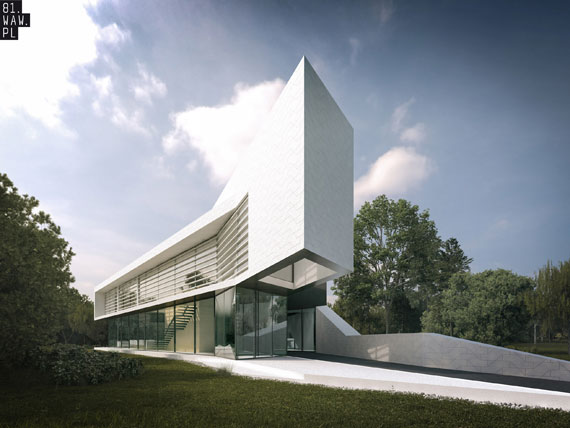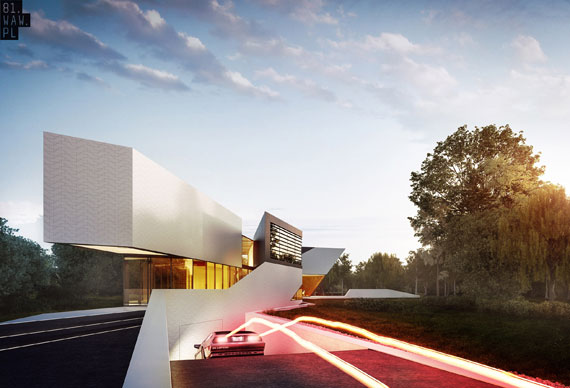 Wasze opinie
Dodaj komentarz:
Jak wstawić obrazek lub link do komentarza?
Drogi Czytelniku W-A.pl - w komentarzach w W-A.pl możesz wstawić zarówno linki jak i obrazki z zewnętrznych serwerów.
Aby wstawić aktywny link wpisz przed nim znaki [www], a po nim [/www] np. [www]www.w-a.pl[/www]
Aby wstawić obrazek wpisz przed jego adresem znaki [img], a po nim [/img] np. [img]www.w-a.pl/obrazek.jpg[/img]
UWAGA: Szerokość "cytowanych" obrazków może wynosić maksymalnie 570 pikseli. Wszystkie większe formaty nie będą wyświetlane.
W razie pytań i problemów piszcie do nas portal(at)w-a.pl
Redakcja W-A.pl nie odpowiada za treść opinii wyrażanych przez internautów piszących na stronach W-A.pl