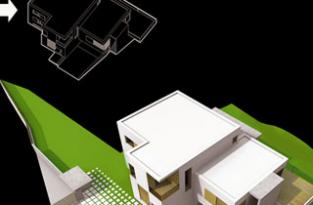 Domy kostki to niechciana spuścizna 60' oraz 70' lat epoki PRL. Te obecne w polskich miastach i wsiach typowe domy jednorodzinne o niskiej wartości estetycznej, funkcjonalnej czy krajobrazowej są dziś przedmiotem opracowań architektonicznych. Przechodzą metamorfozę z niechcianych "pudełek" rozsianych po polskim krajobrazie w nowoczesne wille.
Nasz projekt adaptacji i rozbudowy zastanej kostki krakowskiej wymagał pochylenia się nad kilkoma problemami. Po pierwsze parter istniejącego budynku znajduje się na półpiętrze i jest dostępny od strony ogrodowej poprzez zewnętrzne schody. Naszym celem było przeprojektowanie układu w taki sposób, aby do domu można było wejść bezpośrednio z poziomu terenu, co więcej, aby wejście do domu znalazło się od strony drogi dojazdowej. Osiągnęliśmy to poprzez dostawienie niewielkiej kubatury pełniącej funkcję przestronnego, wysokiego holu wejściowego, a wewnętrzne szerokie schody prowadzące z holu do strefy dziennej pełnią już nie tylko funkcję komunikacyjną ale również są reprezentacyjną, ciekawą przestrzenią wnętrza. Kolejny problem istniejącej kostki to niekorzystny układ domu względem stron świata. Strefa podjazdu i dojścia do domu znajduje się po stronie południowej i jest dobrze doświetlona, natomiast strefa rekreacyjna, otwarta na przepiękny, wręcz baśniowy ogród znajduje się po stronie północnej. Naszym celem było zaprojektowanie strefy dziennej w taki sposób, aby była otwarta na północny ogród, ale jednocześnie doświetlona od strony południowej. Udało się to osiągnąć przez zaaranżowanie salonu, tak aby był otwarty na północną i południową stronę. Zastosowaliśmy również takie przeszklenie holu wejściowego, aby stało się ono doświetleniem wewnętrznej części domu. Budynek stał się bardziej transparentny i otwarty. Kolejnym założeniem projektowym była integracja strefy dziennej z ogrodem poprzez zaprojektowanie tarasu. Ostatnią kwestią projektową był face-lifting elewacji budynku oraz nowa aranżacja wewnętrznego układu funkcjonalnego przy minimalnej ingerencji w zastaną strukturę konstrukcyjną domu.
Typowe, niechciane kostki obecne w polskim krajobrazie stają się dziś budulcem dla kreatywnych działań projektowych. Są wyzwaniem dla inwestorów oraz architektów, mającym na celu poprawę jakości życia, wydajności energetycznej, standardu estetycznego i funkcjonalnego architektury oraz jakości polskiego krajobrazu.

DOM KOSTKA POLSKA
Projekt: BXBstudio Bogusław Barnaś
Zespół: Bogusław Barnaś, Dominik Karaś, Damian Szyjka, Paweł Dawiec, Natalia Bryzek
Wizualizacje & Grafika: BXBstudio Bogusław Barnaś
Lokalizacja: Kraków, Polska
Data: 2014
Powierzchnia: 370 m2
Klient: Prywatny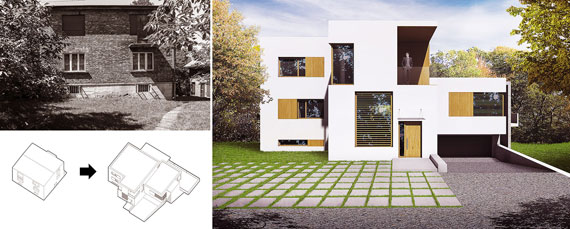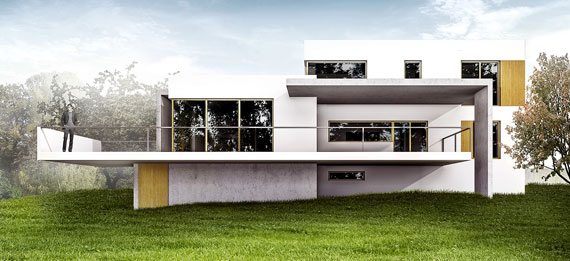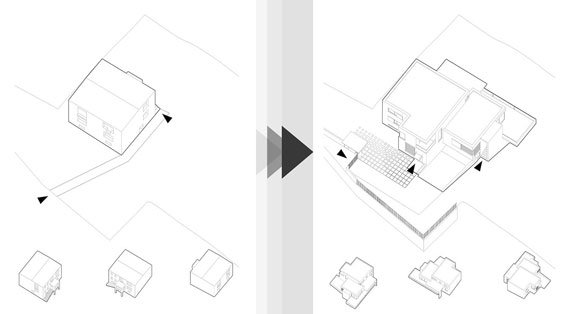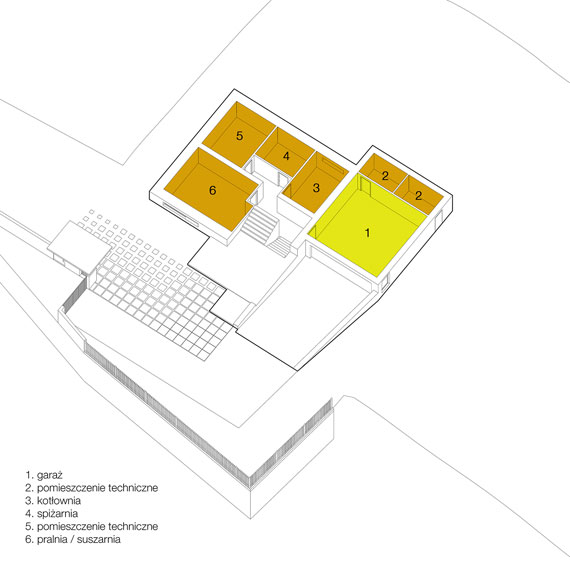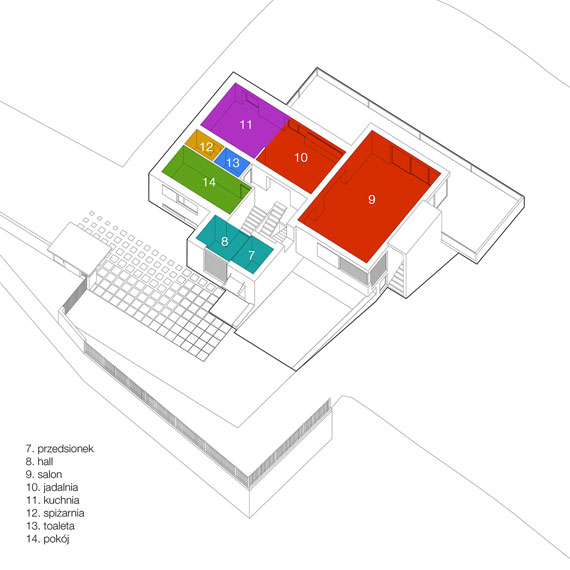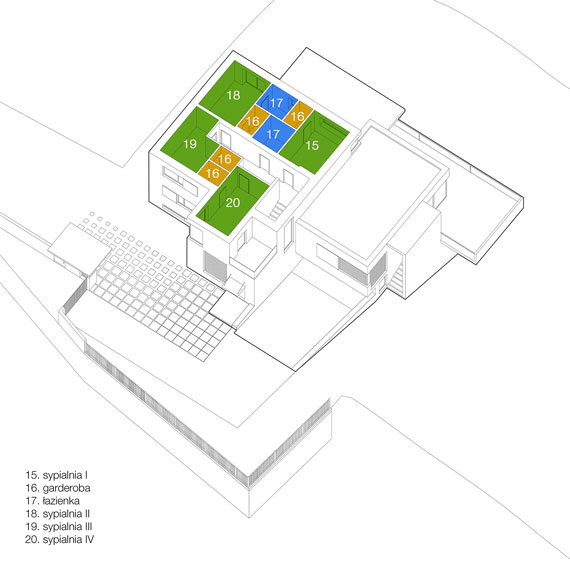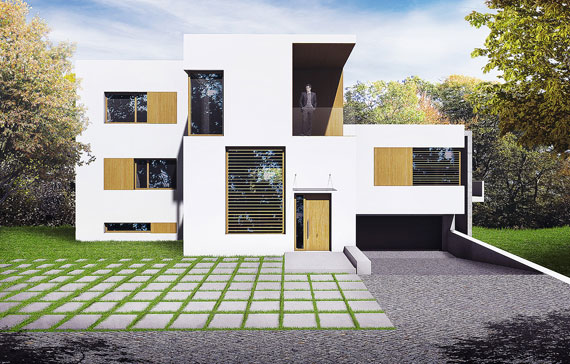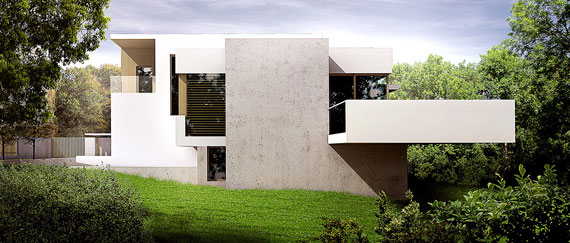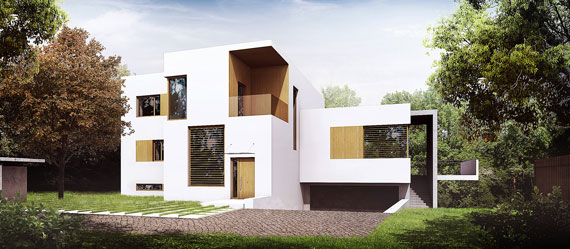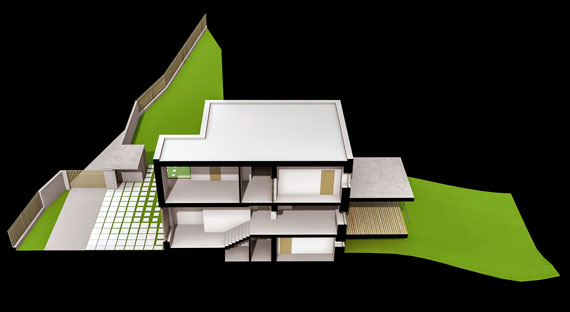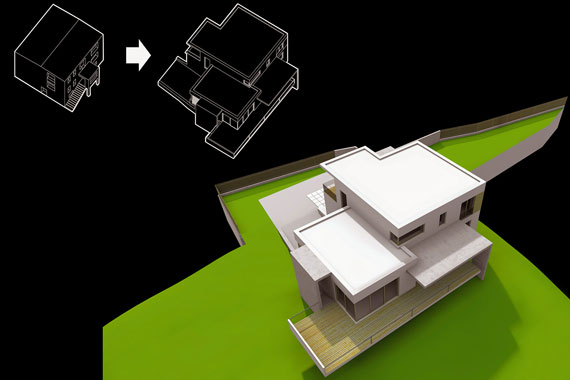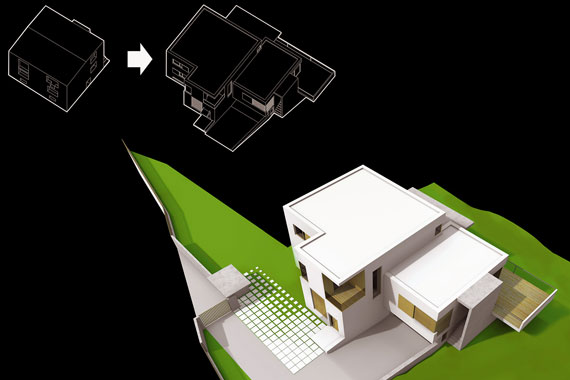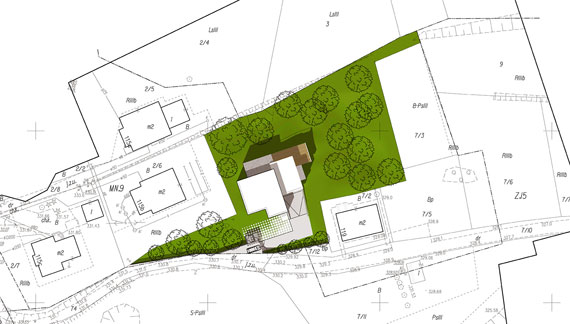 Wasze opinie
Dodaj komentarz:
Jak wstawić obrazek lub link do komentarza?
Drogi Czytelniku W-A.pl - w komentarzach w W-A.pl możesz wstawić zarówno linki jak i obrazki z zewnętrznych serwerów.
Aby wstawić aktywny link wpisz przed nim znaki [www], a po nim [/www] np. [www]www.w-a.pl[/www]
Aby wstawić obrazek wpisz przed jego adresem znaki [img], a po nim [/img] np. [img]www.w-a.pl/obrazek.jpg[/img]
UWAGA: Szerokość "cytowanych" obrazków może wynosić maksymalnie 570 pikseli. Wszystkie większe formaty nie będą wyświetlane.
W razie pytań i problemów piszcie do nas portal(at)w-a.pl
Redakcja W-A.pl nie odpowiada za treść opinii wyrażanych przez internautów piszących na stronach W-A.pl