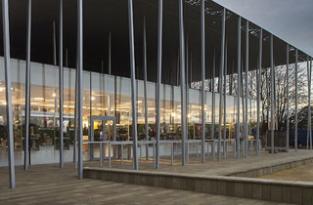 Nowe Centrum Turystyczne dla milionów gości odwiedzających słynny kamienny krąg Stonehenge w Wielkiej Brytanii otrzymało prestiżową nagrodę G14 w kategorii 'Commercial Project of the Year' (Komercyjny Projekt Roku). Obiekt, który wyglądem przypomina leśny zagajnik, doskonale wkomponowuje się w historyczne otoczenie. Efekt integracji wzmacnia przeszklona fasada z superbezbarwnego szkła wykonana w systemie szklenia strukturalnego Pilkington Planar™ Intrafix.
Prehistoryczny kamienny krąg Stonehenge położony jest na pustkowiu, 13 kilometrów od Salisbury w południowej Anglii. Przez lata w sąsiedztwie jednej z największych atrakcji turystycznych na świecie nie było żadnej profesjonalnej bazy turystycznej. Wreszcie pod koniec 2013 r. w odległości ok. 2 kilometrów od kręgu otwarto wyjątkowe Centrum Turystyczne zaprojektowane przez architektów z pracowni Denton Corker Marshall. Pod ogromnym dachem krytym blachą ocynkowaną i wspartym na ponad 200 nieregularnie rozstawionych słupach znajduje się obiekt podzielony na dwie części. Część wystawowa kryta jest drewnem, zaś część edukacyjno-handlową obudowano ponad 4-metrowymi szklanymi ścianami. Imponująca szklana elewacja została wykonana w systemie szklenia strukturalnego Pilkington Planar™ Intrafix z zastosowaniem superbezbarwnego szkła Pilkington Optiwhite™ i niskoemisyjnego szkła Pilkington K Glass™ OW. Pod koniec listopada br. Centrum Turystyczne Stonehenge zostało wyróżnione nagrodą G14, przyznawaną cyklicznie wyjątkowym projektom i podmiotom działającym w branży szklarskiej na brytyjskim rynku.
Szklana panorama
Budynek Centrum został doskonale wkomponowany w krajobraz Wiltshire. Konstrukcja obiektu przypomina las smukłych słupów, na których wspiera się metalowy dach. Z daleka szklany pawilon pod dachem jest niemal niewidoczny, co sprawia wrażenie jakby cały budynek był ażurowy. "Koncepcja architektoniczna zakładała płynne przenikanie się wnętrz Centrum z otaczającym krajobrazem. Wnętrza obiektu miały być z jednej strony doskonale widoczne z zewnątrz, aby przyciągać turystów, z drugiej zaś widok ze środka na otoczenie miał być tak naturalny, jak to tylko możliwe" mówi Terry Lidster, Sales Engineer w Pilkington Architectural.
Wyjątkowy efekt transparentności i "lekkości" szklanej fasady osiągnięto dzięki zastosowaniu szyb zespolonych z superbezbarwnego szkła Pilkington Optiwhite™ zamocowanych w systemie szklenia strukturalnego Pilkington Planar™ Intrafix oraz odpowiednio zaprojektowanej konstrukcji z wykorzystaniem szklanych żeber. Superbezbarwne szkło o obniżonej zawartości żelaza, bez zielonkawego odcienia, zapewnia bardzo wysoką przepuszczalność światła dziennego i idealne odwzorowanie barw. Z tego rodzaju szkła wykonano obie tafle szyby zespolonej, przy czym zewnętrzną pokryto dodatkowo powłoką niskoemisyjną Pilkington K Glass™.
Szyby zespolone na elewacji Centrum w bezramowym systemie szklenia strukturalnego Pilkington Planar™ Intrafix zostały zainstalowane przez firmę Vitrine Systems Ltd., która jest akredytowanym instalatorem systemu Pilkington Planar™. Ten konkretny typ systemu wybrano ze względu na możliwość zastosowania szyb zespolonych i uzyskania odpowiednio wysokiej efektywności energetycznej fasady. Ograniczenie zjawiska występowania mostków termicznych było możliwe również dzięki temu, że przez zewnętrzną taflę szkła nie przechodzi żaden element mocujący a żebra szklane mocowane są prostopadle do spoiny pomiędzy wewnętrznymi taflami szyb zespolonych. Zastosowane rozwiązanie miało korzystny wpływ na estetykę fasady, a wrażenie przenikania się tego co wewnątrz i na zewnątrz zostało spotęgowane.
Wiatr i zimno nie straszne!
Tafle szkła użyte do przeszkleń Centrum wyróżniają się imponującą wysokością sięgającą 4,3 metra. Przeszklenia tak dużego formatu i o pełnej wysokości od podłogi do sufitu gwarantują doskonały widok, ale muszą również zapewniać bezpieczeństwo i komfort cieplny we wnętrzu.
Dla spełnienia tych wymogów obie tafle szkła zostały poddane procesowi hartowania oraz wygrzewania cieplnego (tzw. heat soak test). Zabieg ten zwiększył wytrzymałość mechaniczną szkła i odporność na obciążenia m.in. wiatrem, który w tej okolicy i na tak odsłoniętym terenie może dawać się we znaki. Z kolei na komfort cieplny we wnętrzu Centrum ma wpływ zarówno rozwiązanie konstrukcyjne (tj. zastosowanie systemu Pilkington Planar™ Intrafix), jak i użycie w szybach zespolonych szkła niskoemisyjnego Pilkington K Glass™ OW. Powłoka niskoemisyjna zapobiega ucieczce ciepła z pomieszczeń Centrum, a tym samym przyczynia się do poprawy efektywności energetycznej budynku.
Tajemnica Stonehenge w otoczeniu szkła
Kamienny krąg Stonehenge, dzięki budowie Centrum, stał się jeszcze bardziej atrakcyjnym punktem odwiedzin dla milionów turystów z całego świata. Długo wyczekiwany obiekt jest nie tylko przykładem praktycznej infrastruktury, ale ucieleśnieniem artystycznego kunsztu wprowadzającego w tajemniczy klimat Stonehenge. Kamienny krąg i nowe Centrum tworzą idealny duet prehistorii i nowoczesności. To udane połączenie jest efektem współpracy architektów z pracowni Denton Corker Marshall, producenta systemu przeszkleń Pilkington Planar™ firmy Pilkington Architectural oraz instalatorów z Vitrine Systems Ltd.