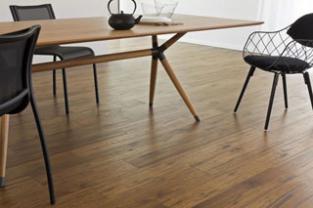 Przy wyborze nowej podłogi warto zwrócić uwagę nie tylko na jej piękny wygląd, ale także na materiały, z których jest wykonana, na sprawdzoną jakość produktu oraz udokumentowaną przyjazność dla środowiska. I to nie tylko ze względu na małe dzieci raczkujące po podłodze – każdy konsument chce być pewny, że na parkiecie nie kryją się niewidzialne zagrożenia dla zdrowia. Proste w pielęgnacji panele laminowane zajmują główną pozycję w grupie podłóg nienagannych ekologicznie oraz tworzących zdrowe warunki mieszkaniowe.
Właściwości powierzchni laminatu pozwalają zaliczyć go do podłóg bardzo higienicznych: warstwa ochronna z żywicy melaminowej jest szczególnie odporna i wytrzymała, a dzięki nowoczesnej technice kliknięcia połączenia desek podłogowych są pewne, a ich forma stabilna. Powierzchnia laminatu zamknięta w taki sposób wyklucza utrzymywanie się na jej powierzchni zwykłych cząsteczek kurzu. Także roztocza kurzu domowego lub inne mikroorganizmy wywołujące alergie nie znajdą tu warunków sprzyjających ich bytowaniu i rozmnażaniu. Jest to ważne nie tylko dla alergików.
Ponieważ utrzymanie laminatu w czystości jest proste, stanowi on podłogę szczególnie przyjazną dla rodziny i zwierząt. Zabrudzenia pochodzące z zewnątrz oraz typowo domowe dają się łatwo usunąć poprzez zamiatanie, odkurzanie i od czasu do czasu wycieranie lekko wilgotną ściereczką. Zaleca się stosowanie środków do mycia podłóg laminowanych, na przykład oferowanych w sprzedaży przez producentów. Stosuje się ich bardzo małą ilość, przez co używanie środków do mycia jest ograniczone do minimum. Chroni to środowisko i budżet domowy.
Produkcja nienaganna pod względem ekologicznym
Laminat potrafi jeszcze więcej: panele laminowane produkowane w Europie, które noszą znak CE, a także logo "Quality and Innovation made in Europe" Europejskiego Związku Producentów Podłóg Laminowanych EPLF (www.eplf.com), są podłogami podlegającymi ścisłym kontrolom i bezpiecznymi dla konsumenta. Są ekologiczne: produkowane z uwzględnieniem ochrony zasobów naturalnych, długowieczne, ze znakomitymi właściwościami użytkowymi – ponadto mogą być poddane pełnemu recyclingowi. Słusznie określa się je mianem "zielonych produktów high-tech". Certyfikowane podłogi laminowane produkowane są przeważnie z surowców odnawialnych i nie zawierają plastyfikatorów. Głównym składnikiem desek są włókna drzewne, jak i celuloza uzyskana z drewna. Uznane znaki jakości potwierdzają, że zastosowane surowce drzewne pochodzą ze zrównoważonych źródeł. Ponadto gwarantują, że wszystkie składniki podłóg zostały wyprodukowane bez użycia pestycydów, związków chloroorganicznych lub niebezpiecznych metali ciężkich. Spośród spoiw stosuje się żywice i kleje przyjazne dla środowiska. – Tym samym laminat składa się z surowców naturalnych i przyczynia się do stworzenia zdrowego klimatu w mieszkaniu. Laminaty są także nie do pobicia pod względem różnorodności wzorów. Atrakcyjne projekty wzorów drewna, kamienia, tekstyliów i innych wzorów kreatywnych, różnorodne struktury powierzchni oraz zmiennie stosowane formaty desek otwierają niespodziewane możliwości kreowania każdej przestrzeni.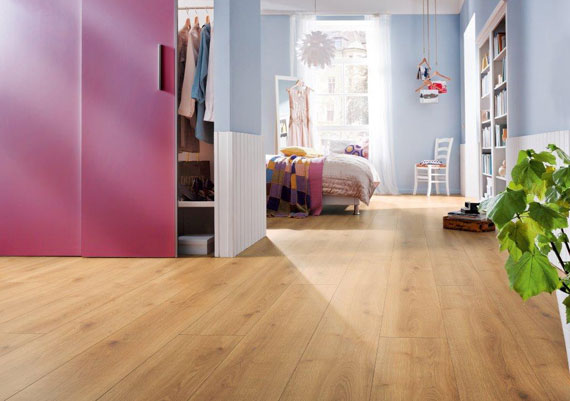 Znakomity bilans ekonomiczny: podłogi laminowane wytwarzane są w oparciu o produkcję zrównoważoną, składają się głównie surowców naturalnych i mają swój udział w tworzeniu zdrowego klimatu w mieszkaniu. – Zdjęcie: HARO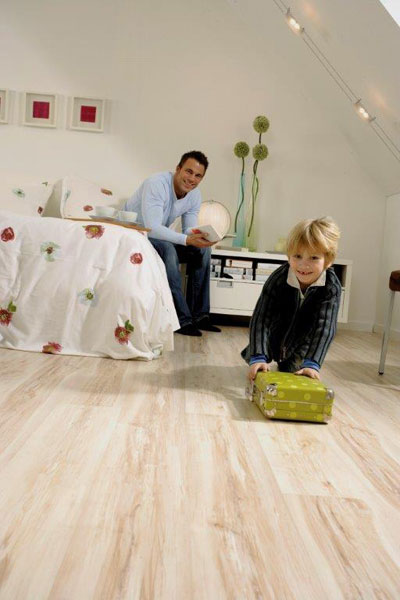 Z pewnością naturalna atmosfera mieszkania: podłogi laminowane nie zawierają plastyfikatorów. – Zdjęcie: Wineo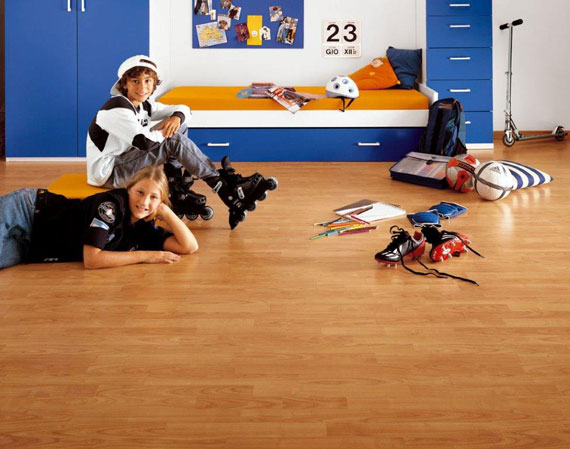 Trwały i prosty w pielęgnacji: laminat to podłoga szczególnie przyjazna dla rodziny i zwierząt. Zabrudzenia pochodzące z zewnątrz oraz typowo domowe dają się łatwo usunąć poprzez zamiatanie, odkurzanie i od czasu do czasu ścieranie lekko wilgotną ściereczką. – Zdjęcie: Skema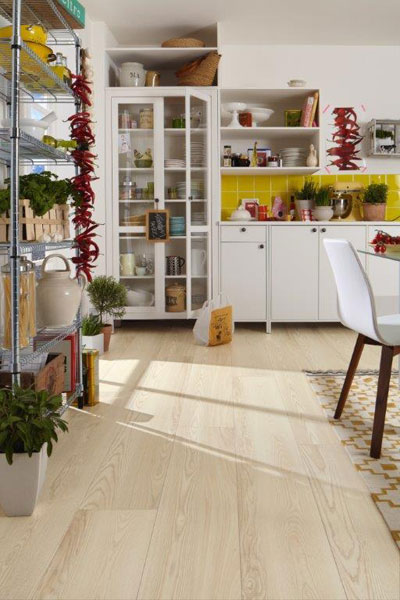 Nienaganne warunki także w kuchni: dzięki swojej zamkniętej i wytrzymałej powierzchni laminat stanowi podłogę higieniczną. – Zdjęcie: Meister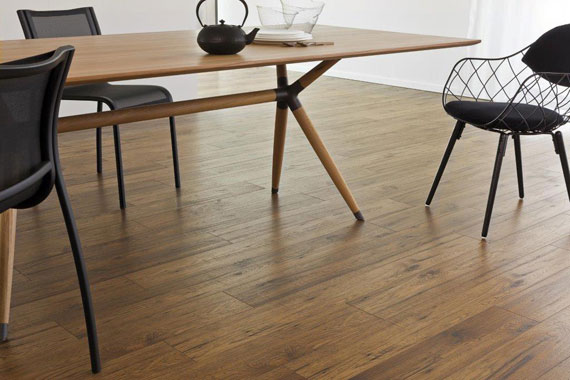 Bezpieczne surowce, sprawdzona jakość produktu i udokumentowana przyjazność dla środowiska: łatwy w pielęgnacji laminat zajmuje czołową pozycję w grupie podłóg zapewniających zdrowe warunki mieszkaniowe. – Zdjęcie: Kaindl