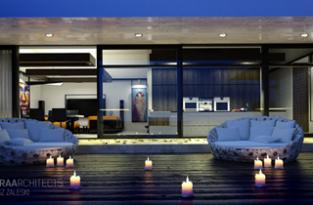 To kontynuacja projektu domu jednorodzinnego autorstwa JABRAARCHITECTS.
Rozkład pomieszczeń opiera się na głównych kierunkach komunikacyjnych wschód-zachód i północ-południe, z czytelnym wyodrębnieniem stref mieszkalnych – dziennej i nocnej. Centralna część domu to strefa dzienna, która panoramicznym 13-sto metrowej długości przeszkleniem od strony kuchni, jadalni i salonu otwiera się w całości na wewnętrzne patio. W dwóch odrębnych skrzydłach domu zaprojektowaliśmy strefy nocne dla rodziców i dzieci. W skrzydle dla rodziców przewidziano sypialnię, łazienkę, garderobę i saunę, natomiast w części dla dzieci zaplanowano dwa pokoje i garderobę.

Minimalizm funkcjonalny wnętrz nawiązuje do architektury domu – proste jednorodne płaszczyzny ścian, podłogi i mebli, oraz wysokiej jakości materiały – naturalne drewno, kamień, ceramika. Pomimo prostych form przestrzeni i wyposażenia, wnętrza nie nużą swoją powtarzalnością. Bielona podłoga z desek i białe ściany stanowią jasne tło dla indywidualnie zaprojektowanych mebli, elementów wyposażenia i eksponatów sztuki, które wprowadzają kontrasty, ożywiają i zmniękczają prostą formę. Ciepłe, drewniane akcenty wyraźnie zauważalne są na tle monochromatycznych płaszczyzn. Wnętrza domu oprócz komfortu przestrzeni i wysokiej jakości rozwiązań materiałówych to przede wszystkim nowoczesność i pomysł na życie inspirowany rytmem natury.
Zintegrowany system zarządzania domem zaprojektowano tak aby intuicyjnie reagował na potrzeby urzytkowników. Sterowanie oświetleniem oraz urządzeniami odbywa się bez zbędnej uwagi i zaangażowania domowników. To dom dopasowuje się do nas a nie my do niego. Przestrzeń domu staje się wielowymiarowa i niebalana dzięki oświetleniu, które naturalnie reaguje na pory roku, pory dnia, ruch czy seans filmowy w weekendowy wieczór. Po przeciwnej stronie spełnionych potrzeb i komfortu jest również świadomość bycia częścią większego ekosystemu, gdzie czyste technologie, optymalizacja i zarządzanie zużyciem energii elektrycznej i grzewczej są standardem i filozofią życia a nie awangardą.

Projekt: Wnętrza
Autor: JABRAARCHITECTS Tomasz Zaleski
Powierzchnia: 308m2
Rok: 2014
Wizualizacje: JABRAARCHITECTS