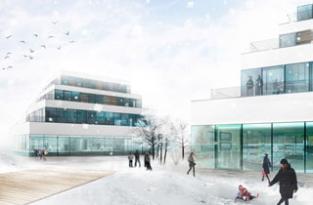 Konkurs na opracowanie koncepcji architektoniczno-urbanistycznej zespołu zabudowy usługowo-mieszkaniowej na działce nr 94/50 przy ul Wojska Polskiego w Kielcach.
Zabudowa wielofunkcyjna w Kielcach

lokalizacja: Kielce
powierzchnia: 12 000 m²
typ: konkurs architektoniczny SARP
inwestor: Condite Sp. z o.o. S.K.A
autorzy: Marcin Jagiełło, Jarosław Krysiak, Marta Liszek, Marcin Woźniak
data: 2014

Obszar opracowania znajduje się poza śródmieściem Kielc. Bezpośrednie otoczenie to zabudowa jednorodzinna. Plan miejscowy zakłada lokalizację funkcji usługowo-mieszkaniowych z zastosowaniem dominanty wysokościowej do 25 m.

Lokalizacja w tym miejscu wyższej zabudowy pozwala na wykorzystanie w pełni walorów przyrodniczo-widokowych otaczających teren pasm gór Świętokrzyskich. Najbardziej charakterystyczne to od południa Chęcińsko-Kielecki Park Krajobrazowy z kilkoma dużymi wniesieniami. Najwyższy z nich to góra Telegraf o wysokości 408 m n.p.m. Od północy widoczny jest Rezerwat Wietrznia z nowym Centrum Geoedukacji.

Plan miejscowy narzuca również wyraźne, dostosowane do łuków dróg linie zabudowy oraz nakazuje lokalizację w centralnej części terenu otwartej przestrzeni publicznej. Wszystkie uwarunkowania: prawne, lokalizacyjne i przyrodnicze mają decydujący wpływ na układ urbanistyczny i formę budynków.

Główną decyzją projektową, wpisującą się w opisane wytyczne, jest lekkie wycofanie każdej kolejnej kondygnacji. W ten sposób uzyskujemy okalające budynek tarasy użytkowe. Podnoszą one komfort pracy i zamieszkania oraz prestiż całej inwestycji. Ostatecznie uzyskujemy dynamicznie zwężające się ku górze formy, które przestrzennie nawiązują do otaczającego górzystego krajobrazu. Jednocześnie minimalizujemy zacienianie na otaczającą budynek przestrzeń publiczną oraz zabudowę jednorodzinną. Wszystko przy zachowaniu wysokich wskaźników intensywności zabudowy i powierzchni użytkowej.
po kliknięciu powiększenie