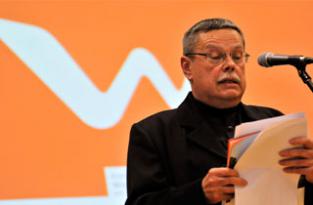 W poniedziałek rozdano nagrody w V edycji konkursu im. Stanisława Witkiewicza. Przyznawane co dwa lata, nagrody na najlepszą architekturę województwa małpolskiego – najlepsze współczesne realizacje architektoniczne sprzyjające ochronie i kształtowaniu krajobrazu kulturowego Małopolski. Trafiły one w tym roku w ręce trzech laureatów w dwóch dziedzinach – architektury mieszkaniowej (1 realizacja) oraz architektury użyteczności publicznej (2 realizacje). Z racji braku zgłoszeń w tym roku nie przyznano nagrody w dziedzinie architektury sakralnej. Organizatorem konkursu jest Krakowski Oddział SARP wspomagany przez Oddziały Podhalański i Nowosądecki. Wystawa pokonkursowa prezentowana będzie od 21 września do 4 października 2010 roku, w Galerii SARP przy Pl. Szczepańskim 6 w Krakowie.
WYPOWIEDZI
Marszałek Województwa Małopolskiego Marek Nawara powiedział – ''Stworzyliśmy [nagrodę], z myślą o otaczającej nas przestrzeni i niezwykłym bogactwie, zróżnicowaniu krajobrazowym i przyrodniczym naszego regionu. To zróżnicowanie daje pełną inspirację zarówno dla twórców jak i wykonawców.'' Dodał także - ''Nasza wspólna przestrzeń, krajobraz kulturowy, są zagrożone wciąż postępującą degradacją''.
Marek Nawara wspominał o elementach zabudowy, zwłaszcza w przestrzeni wiejskiej, gdzie brakuje dobrych przykładów indywidualnej architektury – ''W Małopolsce zauważamy przekształcone zespoły zabudowy hisotrycznych miast i miasteczek czy przekształcony krajobraz wiejski, elementy nowej zabudowy, która nie nawiązuje do tradycji architektury i historycznych uwarunkowań. Dlatego też chcemy upowszechniać dobre praktyki w budowaniu przestrzeni wokół nas.''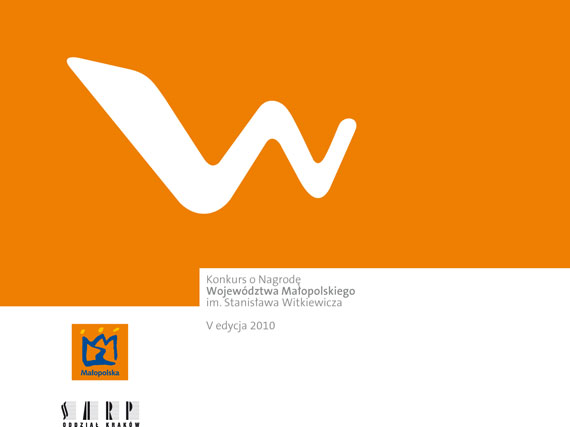 Prezes Krakowskiego Oddziału SARP Piotr Gajewski porównał rozwój architektury w Polsce na terenie miast oraz całego obszaru pozostałych terenów naszego kraju ''Odnoszę wrażenie, że architektura w Polsce zamieszkała w miastach. Strasznie boleję nad tym, bowiem uważam, że więcej architektury powinno być na wsi i w małych jednostkach. Tak jest jest teraz nie było nigdy. I to nie tylko w czasach Cystersów, którzy budowali kościoły i klasztory, ale również później, Karl Friedrich Schinkel nie bał się zbudować kościoła w Krzeszowicach, a był największym i najbardziej wpływowym architektem swoich czasów. (...) Dzisiaj tak nie jest. Nie wiemy dlaczego architekci budują głównie w miastach. Możemy sobie wyobrazić, że Zaha Hadid buduje skocznię narciarską w Garmisch-Partenkirchen, ale nie możemy sobie wyobrazić jej projektu w Wiśle lub Zakopanem. Musimy tego doczekać. (...) Musimy z powrotem implementować architekturę do małych jednostek. Jednym ze sposobów jest organizacja konkursów. (...) Rzeczy dobre powinny być oznaczone przez właściwe jury."
Przewodniczącym jury w tym konkursie był krakowski profesor architektury Krzysztof Lenartowicz. Podsumowując tegoroczną edycję konkursu dodał od siebie "Budownictwo wypełnia przestrzeń. Ta ogromna przestrzeń to krajobraz, krajobraz województwa, Małopolski. Ten pejzaż, jeżeli chodzi o to co jest budowane, jest pod wpływem świadomości estetycznej i społecznej jaka jest. To co powstaje jest właśnie takie jak ta świadomość i gusta polaków, które [w architekturze] nie są najwyższego lotu. Dlatego wskazywanie rzeczy dobrych to jest ten mechanizm zachęcania i pobudzania ambicji.'' Następnie zaznaczył ''Myślę, że te obiekty dzisiaj nagradzane stanowią dobry zaczyn tego co za Mackiewiczem nazwałbym patriotyzmem pejzażu, one się starają dobrze wpisać w otoczenie i podnieść jego jakość''.
WERDYKT
Zarząd Województwa Małopolskiego, po uwzględnieniu rekomendacji Sądu konkursowego (w skład, którego weszli przedstawiciele Stowarzyszenia Architektów Polskich i Województwa Małopolskiego), przyznał już w tym roku po raz piąty Nagrodę Województwa Małopolskiego im. Stanisława Witkiewicza za najlepsze, współczesne realizacje architektoniczne sprzyjające ochronie i kształtowaniu krajobrazu kulturowego Małopolski.
NAGRODY I UZASADNIENIE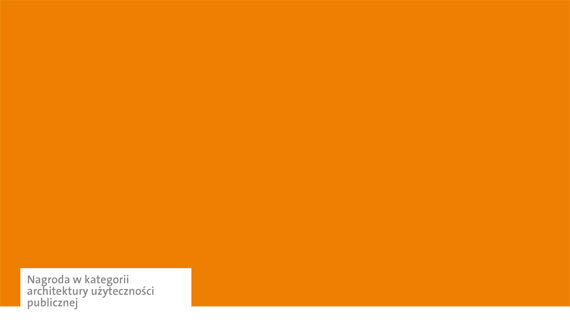 po kliknięciu otrzymasz powiększenie fotografii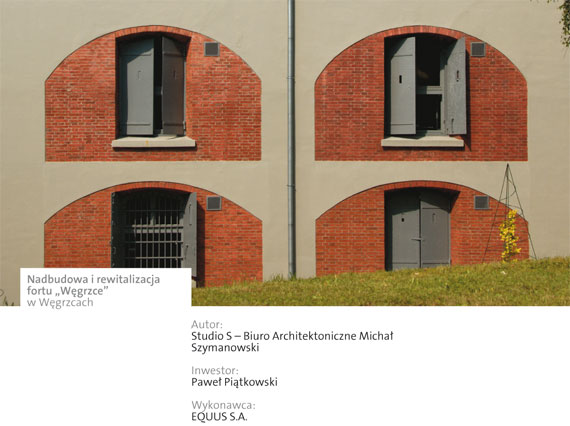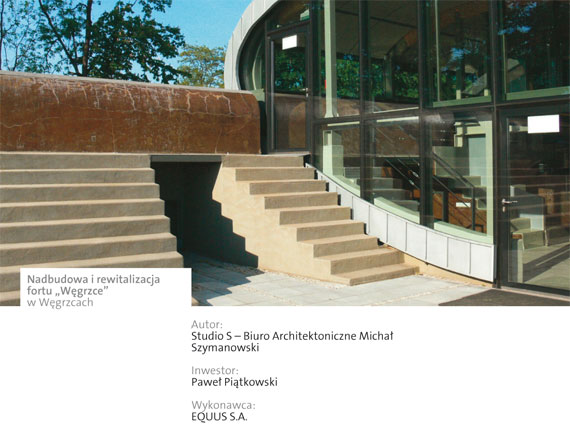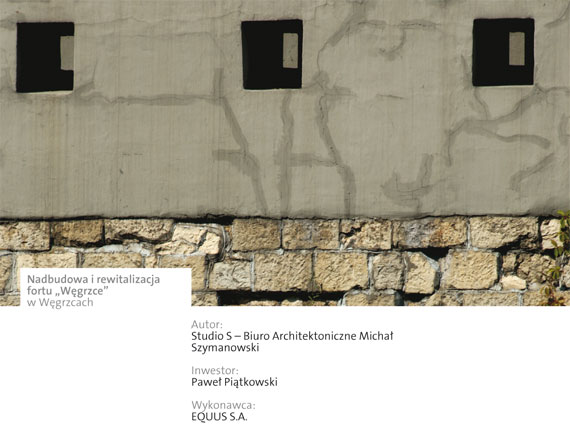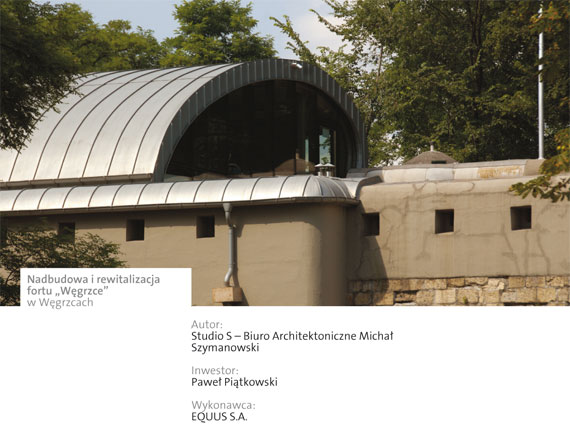 Nagrodę Województwa Małopolskiego im. Stanisława Witkiewicza w kategorii architektura użyteczności publicznej otrzymuje Projekt nadbudowy i rewitalizacji Fortu "Węgrzce 47 a", w gminie Zielonki oraz jego projektanci: Studio S Biuro Architektoniczne Michał Szymanowski (arch. Jacek Poproch, arch. Bartłomiej Sitarski, arch. Michał Szymanowski) i inwestor pan Paweł Piątkowski.
Realizacja nagrodzona za następujące wartości:
udane kompozycyjne powiązanie "nowego i starego" w architekturze, przy adaptowaniu obiektu zabytkowego do nowego sposobu użytkowania;

realizację, która pokazuje możliwości i walory zagubionej myśli urbanistycznej o potrzebie włączenia "zielonego" systemu fortyfikacyjnego dziewiętnastowiecznej "Twierdzy Kraków" do nowego kształtowania miasta.
Zarząd Województwa Małopolskiego postanowił nagrodzić w tej samej kategorii również Pawilon obsługi stacji paliw w Sierczy "BAZA", gmina Wieliczka, oraz jego projektantów: Group_A Architects (arch. Dariusz Gajewski, arch. Jacek Krych, arch. Beata Młynarska, współpraca autorska: Michał Krawczyk, Klaudia Fiegler) i inwestora państwo Urszulę i Wiesława Żyznowskich.
Realizacja nagrodzona za następujące wartości:
jakość architektury małej formy uzyskaną przy wielkiej prostocie i oszczędności środków wyrazu;

wykreowanie architektury, która szlachetnie kontrastuje ze zdegradowanym otoczeniem (zabudowa dawnego PGRu) i może być wzorcowym przykładem współczesnego podejścia do przestrzeni zastanej.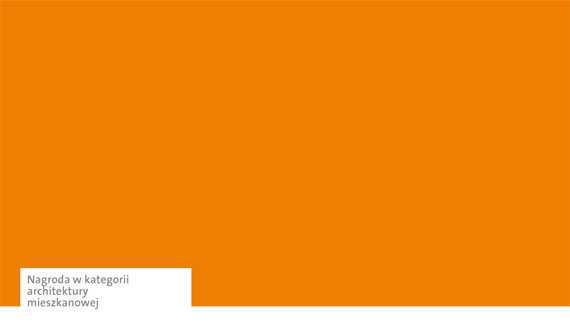 po kliknięciu otrzymasz powiększenie fotografii
po kliknięciu otrzymasz powiększenie fotografii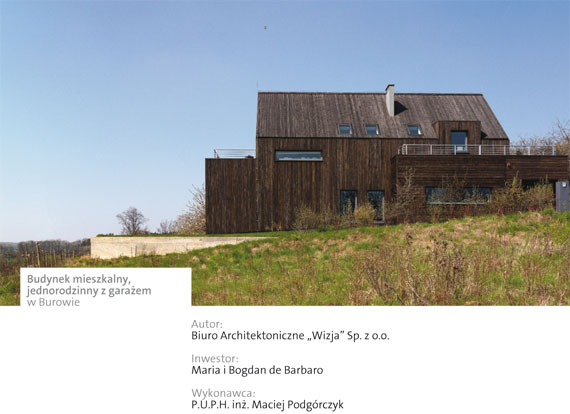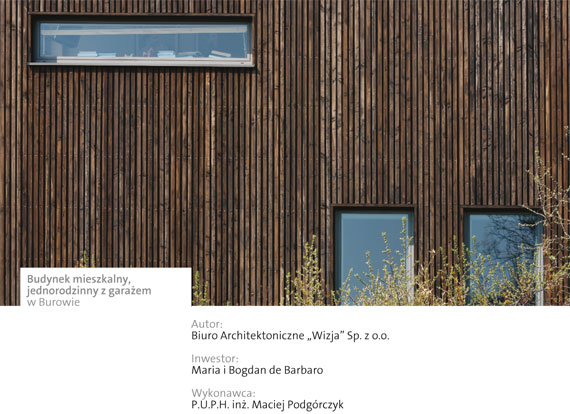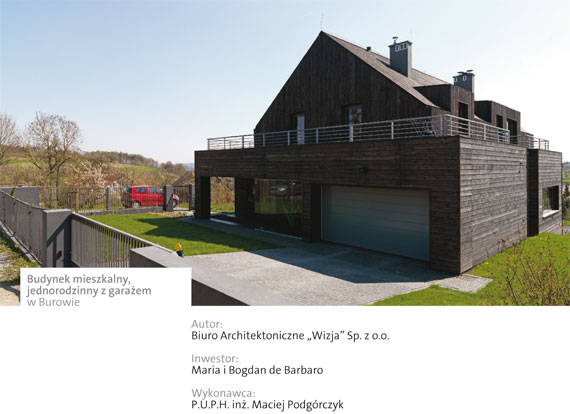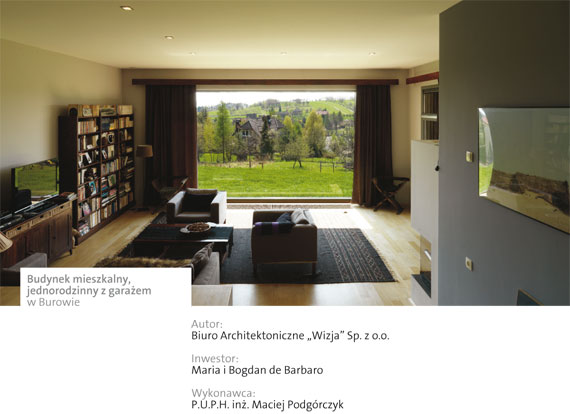 W kategorii architektura mieszkaniowa Nagrodę Województwa Małopolskiego im. Stanisława Witkiewicza otrzymuje Budynek mieszkalny jednorodzinny z garażem w Burowie, usytuowany w okolicach Zabierzowa pod Krakowem oraz jego projektanci Biuro Architektoniczne "Wizja" (główny projektant arch. Stanisław Deńko, zespół projektowy: arch. Robert Koprowski, arch. Ewa Idzikowska, arch. Łukasz Pióro, projekt wnętrz mgr Maria Łukasiewicz – Rudkowska) i inwestor państwo Maria i Bogdan de Barbaro.
Realizacja nagrodzona za następujące wartości:
konsekwentną, współczesną interpretację archetypu "domu" rodzinnego;

nawiązanie do tradycji w odważnym użyciu drewnianego tworzywa;

realizację świadczącą o dobrej współpracy inwestora i architekta w toku realizacji projektu.
Prowadzącym spotkanie był Szymon Kloska. Organizatorem konkursu i wystawy SARP Kraków - Krystyna Łyczakowska, organizacja wystawy i uroczystosci wręczenia Nagród oraz współredaktor katalogu z panią Elżbietą Okołotowicz-Kotowską. Statuetki nagród zaprojektował znany krakowski rzeźbiarz Stefan Dousa, natomiast inwestorzy otrzymali tablice pamiątkowe do umieszczania na elewacjach nagrodzonych realizacji.
FOTOREPORTAŻ Z WRĘCZENIA NAGRÓD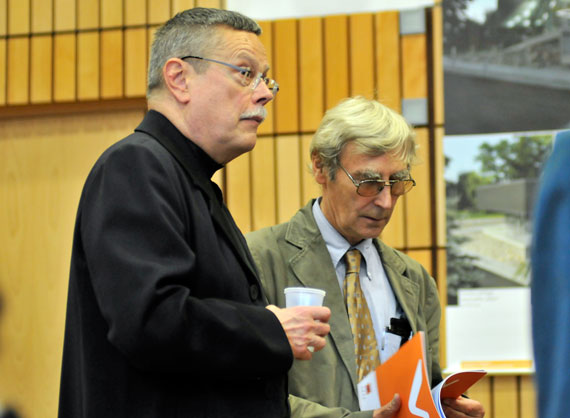 Profesorowie Krzysztof Lenartowicz oraz Andrzej Wyżykowski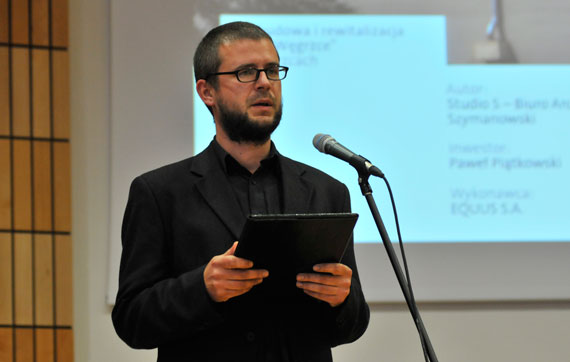 Prowadzący spotkanie Szymon Kloska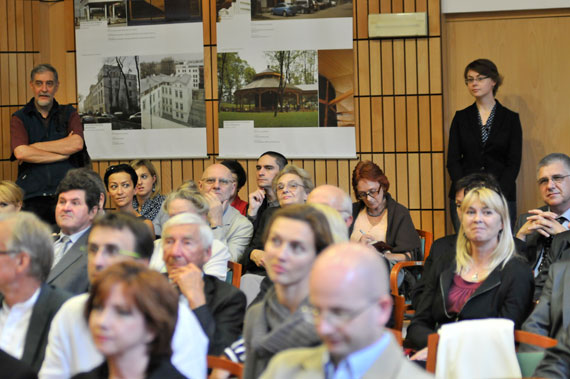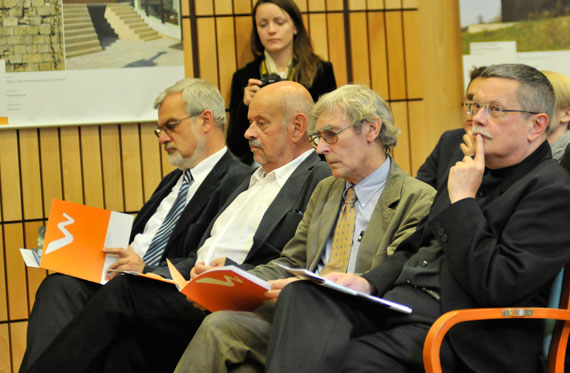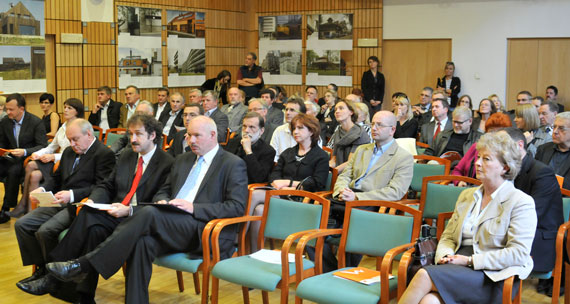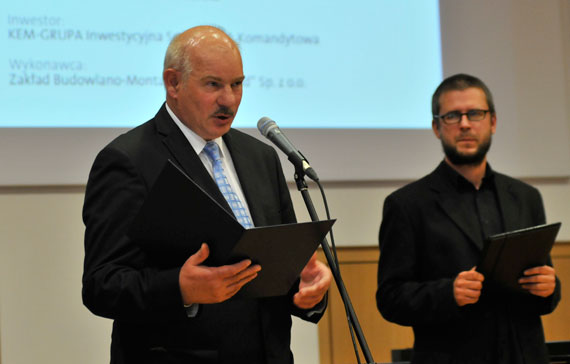 Marszałek Województwa Małopolskiego Marek Nawara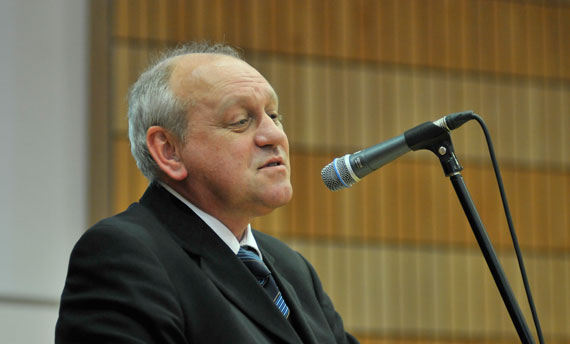 Prezes SARP Kraków dr hab. arch. Piotr Gajewski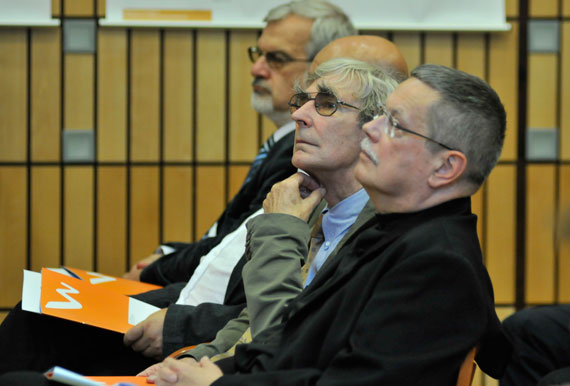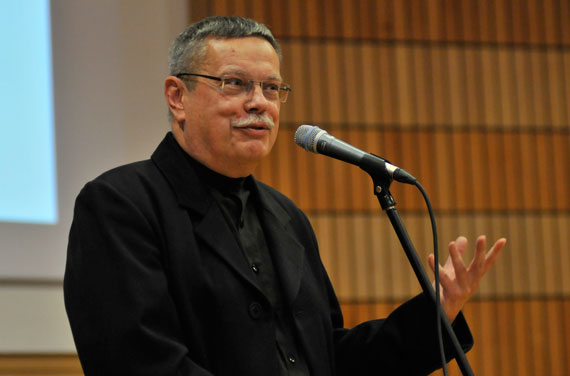 prof. Krzystof Lenartowicz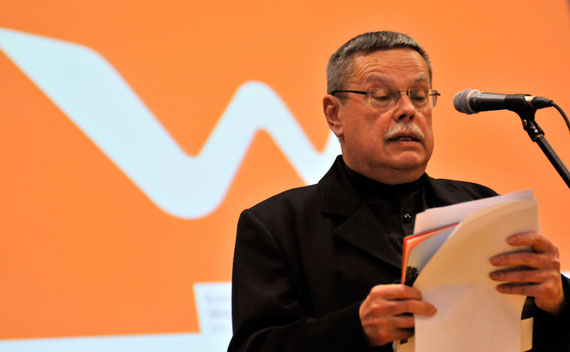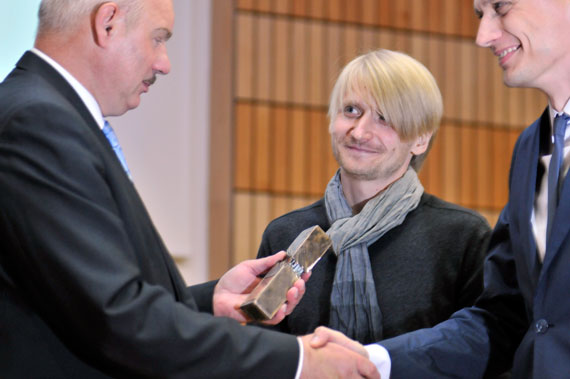 Group_A Architects (arch. Dariusz Gajewski, arch. Jacek Krych, arch. Beata Młynarska, współpraca autorska: Michał Krawczyk, Klaudia Fiegler)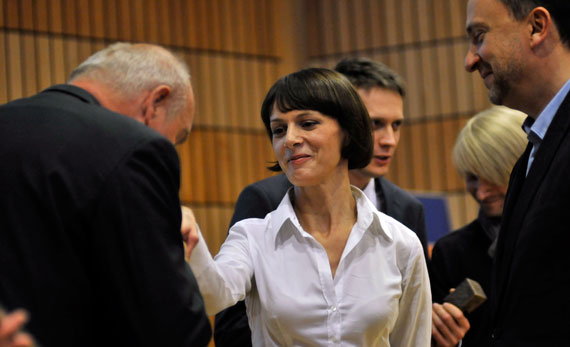 Urszula i Wiesław Żyznowscy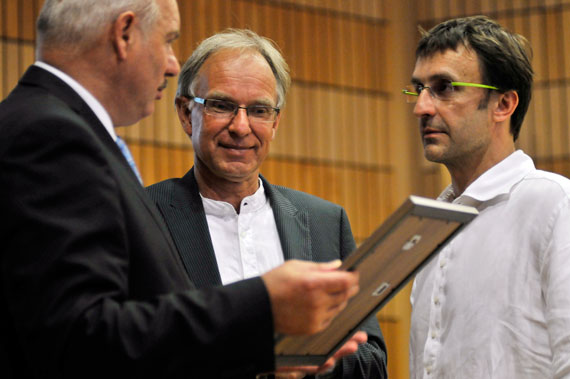 Studio S Biuro Architektoniczne Michał Szymanowski (arch. Jacek Poproch, arch. Bartłomiej Sitarski, arch. Michał Szymanowski)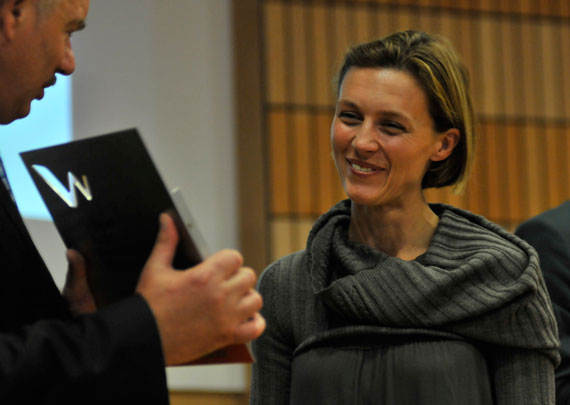 Przedstawicielka inwestora - żona - Pawła Piątkowskiego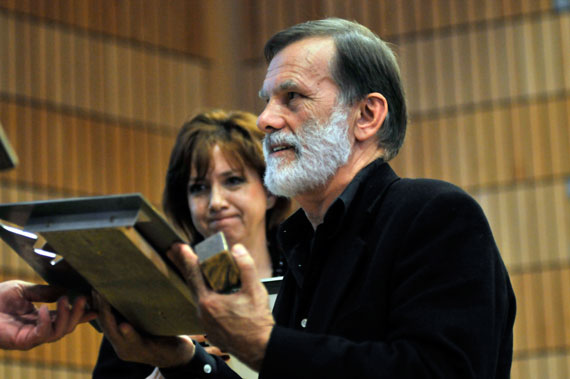 Biuro Architektoniczne "Wizja" (główny projektant arch. Stanisław Deńko, zespół projektowy: arch. Robert Koprowski, arch. Ewa Idzikowska, arch. Łukasz Pióro, projekt wnętrz mgr Maria Łukasiewicz – Rudkowska)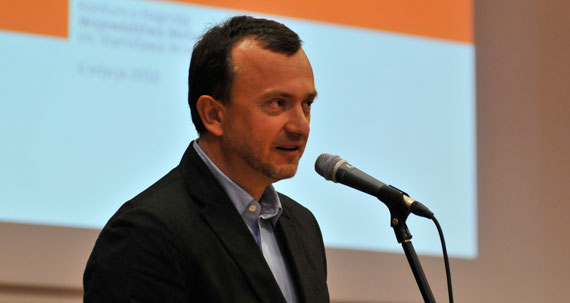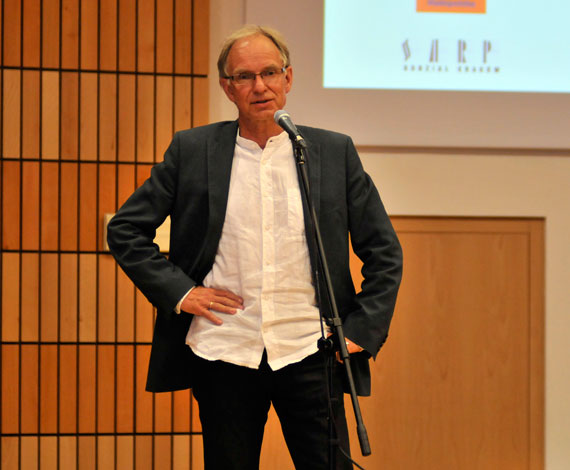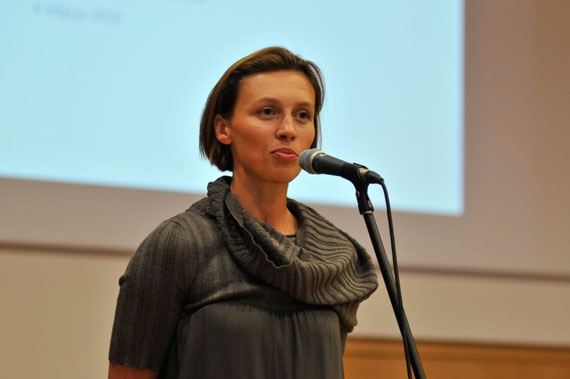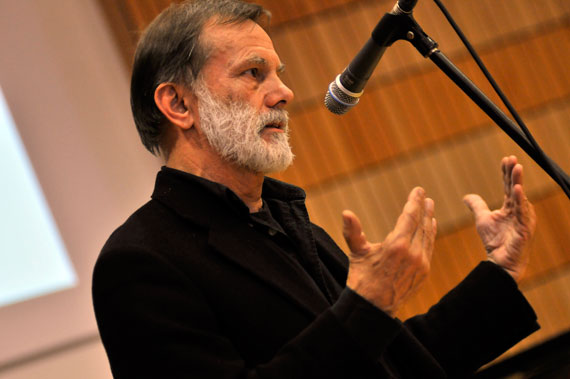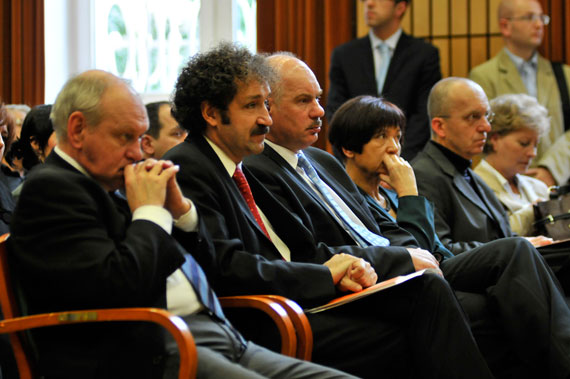 ZESTAWIENIE WSZYSTKICH PROJEKTÓW KONKURSU