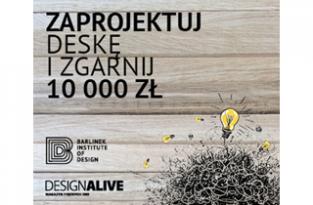 Rusza właśnie druga edycja konkursu dla architektów i projektantów oraz wszystkich tych, dla których projektowanie to czysta przyjemność. Podobnie jak w roku ubiegłym Kreacje z natury, to coś więcej niż tylko konkurs – to całościowy plan kooperacji największego producenta podłóg drewnianych z projektantami.
Współpraca Barlinka jest wielowymiarowa, to właśnie laureatki pierwszej edycji konkursu zostały współtwórcami najbardziej designerskiej kolekcji podłóg drewnianych na rynku – premiera "Tastes of life 2015" już we wrześniu tego roku, zapowiada Dorota Karbowska-Zawadzka, Dyrektor Marketingu Barlinek S.A.
Tegorocznym zadaniem konkursowym jest stworzenie nowego wzoru Deski Barlineckiej, wzoru który uzupełni portfolio produktów Barlinka w 2016 roku. Sam konkurs składa się z dwóch etapów. W pierwszym, uczestnicy przedstawią ogólny koncept deski (m.in. moodborad ilustrujący źródło inspiracji dla projektu; pokażą czym kierowali się przy pracy nad wzorem, ale także będę mogli się zaprezentować pod kątem samego projektowania wnętrz), w drugim etapie wybrani uczestnicy zostaną zaproszeni do "stolarni", gdzie pod okiem ekspertów rozwiną swoje projekty i zdobędą nowe umiejętności. Efektem tych prac, będzie finalny projekt złożony do konkursu.
Prace konkursowe oceniać będą autorytety z dziedziny architektury, designu: przewodniczący - Przemo Łukasik (Medusa Group), Agnieszka Stefańska (Infinity-Design), Wojciech Trzcionka (Design Alive) oraz Tomasz Błuszkowski (Forma Studio).
Gala finałowa konkursu oraz wręczanie nagród, wyróżnień odbędzie się w październiku podczas Łódź Design Festival.
Rejestracja uczestników, regulamin oraz szczegółowe informacje znajdują się na stronie dedykowanej konkursowi www.kreacjeznatury.pl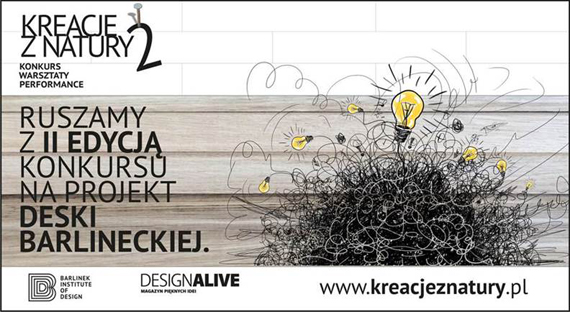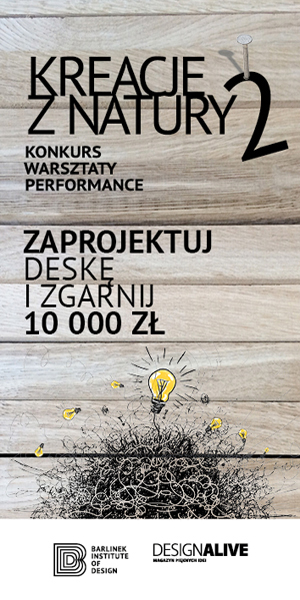 Wasze opinie
Dodaj komentarz:
Jak wstawić obrazek lub link do komentarza?
Drogi Czytelniku W-A.pl - w komentarzach w W-A.pl możesz wstawić zarówno linki jak i obrazki z zewnętrznych serwerów.
Aby wstawić aktywny link wpisz przed nim znaki [www], a po nim [/www] np. [www]www.w-a.pl[/www]
Aby wstawić obrazek wpisz przed jego adresem znaki [img], a po nim [/img] np. [img]www.w-a.pl/obrazek.jpg[/img]
UWAGA: Szerokość "cytowanych" obrazków może wynosić maksymalnie 570 pikseli. Wszystkie większe formaty nie będą wyświetlane.
W razie pytań i problemów piszcie do nas portal(at)w-a.pl
Redakcja W-A.pl nie odpowiada za treść opinii wyrażanych przez internautów piszących na stronach W-A.pl