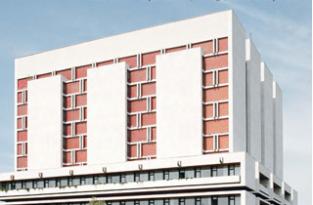 Katowicki Spodek i warszawska Rotunda to symbole powojennego modernizmu w Polsce. O czechosłowackich, jugosłowiańskich, rumuńskich czy węgierskich perłach ówczesnej architektury wiemy znacznie mniej. Po raz pierwszy w Polsce wybitni krytycy architektury, architekci i urbaniści tak szeroko przyglądają się fenomenowi socmodernizmu w Europie Środkowo-Wschodniej.
Najnowszy numer kwartalnika "Herito" – "Socmodernizm w architekturze" – przynosi spojrzenie bez uprzedzeń na pejzaż architektoniczny dawnych demoludów. Do zerwania ze stereotypem "stylu blokowisk" potrzebny był dystans. Architektura późnego modernizmu w ostatnich latach stała się atrakcyjnym tematem, ale tym razem remanent sięgnął przede wszystkim poza granice kraju. Z tekstów "Herito" wyłania się interesujący obraz niezwykłych twórców, którzy w czasie, gdy styl międzynarodowy był w pełni rozwkitu, trzymali się własnej drogi. Byli antysystemowi, nie poddali się ani doktrynie politycznej, ani architektonicznej. Mimo ogromnej skali wojennych zniszczeń i konieczności budowania od zera, stali się architektami ciągłości. Z takim oparciem rozwinęli swój oryginalny język architektury, a dziś wiele ich dzieł uznaje się za ikony.

Ponad dwadzieścia lat temu Adam Miłobędzki nazwał socmodernizmem okres od końca lat 50. do lat 80. ubiegłego wieku. W "Architekturze ziem Polski" pokusił się o jego pierwszą ocenę. Nie wypadła ona korzystnie. Socmodernizm jawił się jako jednolity, do granic ekonomiczny, utylitarny styl reprodukujący zachodni funkcjonalizm. Ocena Miłobędzkiego była zbyt surowa, co potwierdziła w 2008 roku wystawa "Cold War Modern" w londyńskim Victoria and Albert Museum. Dziś architektura powojennego modernizmu jest modna. Specjaliści zaczęli uważniej jej się przyglądać, doceniając nowatorskość technologii, odważną estetykę i ducha nowoczesności.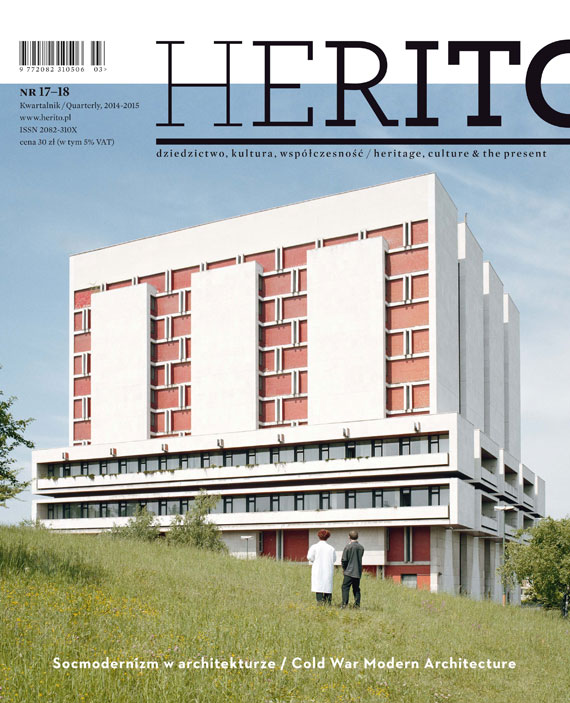 Dwujęzyczny, polsko-angielski kwartalnik "Herito", wydawany jest od 2010 roku przez Międzynarodowe Centrum Kultury w Krakowie. Zapraszani do współpracy autorzy to polscy i zagraniczni specjaliści związani z tematyką aktualnego numeru. Pismo skupia się na zagadnieniach kultury środkowoeuropejskiej, sztuki oraz dziedzictwa kulturowego. Tworzy unikalną przestrzeń do dyskusji na temat Europy Środkowo-Wschodniej. Zabiera wyraźny głos w kwestii tożsamości, współczesności i przyszłości krajów środkowoeuropejskich.
"Herito" jest dostępne również w wersji cyfrowej na systemy iOS i Android z Google Play i App Store w jednej z dwóch wersji językowych – polskiej lub angielskiej.

"Herito" nr 17-18, Socmodernizm w architekturze, www.herito.pl
Wasze opinie
Dodaj komentarz:
Jak wstawić obrazek lub link do komentarza?
Drogi Czytelniku W-A.pl - w komentarzach w W-A.pl możesz wstawić zarówno linki jak i obrazki z zewnętrznych serwerów.
Aby wstawić aktywny link wpisz przed nim znaki [www], a po nim [/www] np. [www]www.w-a.pl[/www]
Aby wstawić obrazek wpisz przed jego adresem znaki [img], a po nim [/img] np. [img]www.w-a.pl/obrazek.jpg[/img]
UWAGA: Szerokość "cytowanych" obrazków może wynosić maksymalnie 570 pikseli. Wszystkie większe formaty nie będą wyświetlane.
W razie pytań i problemów piszcie do nas portal(at)w-a.pl
Redakcja W-A.pl nie odpowiada za treść opinii wyrażanych przez internautów piszących na stronach W-A.pl