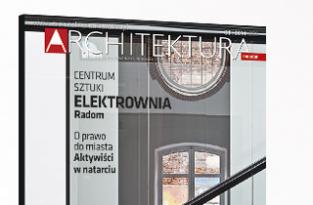 OD REDAKTORA Z jednej strony kryzys tradycyjnie pojmowanej urbanistyki i planowania w większej niż lokalna skali, z drugiej – dynamiczny rozwój ruchów miejskich i inicjatyw oddolnych. Kryzys demokracji przedstawicielskiej wobec rozwoju demokracji partycypacyjnej. W tym numerze "Architektury-murator" Tomasz Żylski analizuje działalność współczesnych miejskich społeczników i prezentuje najciekawsze projekty i realizacje – od miejskich farm i tworzenia parków po promowanie idei woonerfów; od Nowego Jorku po Łódź. Organizacje pozarządowe. Nieformalne ruchy miejskie. Budżet partycypacyjny i crowdfunding. Jak pod ich wpływem zmieniają się miasta? Ewa P. Porębska
BIEŻĄCE WYDANIE
KONTEKSTY

Miejscy aktywiści w natarciu

W Polsce wysyp oddolnych inicjatyw i różnego rodzaju akcji w przestrzeni miejskiej trwa od ponad dekady. Inicjatorami zmian są już nie tylko organizacje pozarządowe, ale też nieformalne ruchy miejskie rekrutujące się ze zwykłych obywateli. Na fali tego wzmożonego zainteresowania miastem również samorządy coraz bardziej włączają mieszkańców we współdecydowanie o jego kształcie. Kim są i czym się zajmują współcześni miejscy społecznicy?

Tekst: Tomasz Żylski; zdjęcie: fot. dzięki uprzejmości Greening of Detroit

REALIZACJE

Mazowieckie Centrum Sztuki Współczesnej Elektrownia w Radomiu
(Autorzy: Kikowski Architekci, architekci Andrzej Kikowski, Damian Cyryl Kotwicki Daniel Cwalina, Beata Michalik)

W przebudowanej dawnej Elektrowni znajdzie się jedna z największych kolekcji sztuki polskiej drugiej połowy XX wieku. Zainicjowany przez Andrzeja Wajdę projekt daje Radomiowi szansę na stworzenie instytucji o znaczeniu ogólnopolskim i rewitalizację zdegradowanej, zaniedbanej części miasta. O idei utworzenia Centrum pisze Andrzej Wajda, o próbach włączenia go w ogólnoświatową sieć "fabryk wyobraźni" – Andrzej Bulanda, a o dopełnieniu heterogenicznego otoczenia, w którym powstało – Grzegorz Stiasny. Ponadto wypowiedź Włodzimierza Pujanka, dyrektora instytucji, na temat ambitnych planów uczynienia z niej wielofunkcyjnego ośrodka edukacyjno-kulturalnego, a także Krzysztofa Góreckiego, głównego konstruktora obiektu, który opisuje m.in. przebieg budowy nowych fundamentów pod Elektrownią i Andrzeja Kikowskiego, generalnego projektanta, który tłumaczy, skąd wziął się pomysł na skontrastowanie nowo powstałej bryły z zabytkową tkanką.

Opinie: Andrzej Bulanda, Grzegorz Stiasny, Andrzej Wajda; zdjęcie: Marcin Czechowicz

Technika Muzeum Morskie w Helsingør
(Autorzy: Bjarke Ingels Group)

Na Duńskie Muzeum Morskie zaadaptowano przestrzeń suchego doku w Helsingør. Realizacja obejmująca ingerencje w konstrukcję basenu była o tyle trudna, że jego żelbetowe ściany mają 1,5 metra, a płyta denna – 2,5 metra grubości..
Autor tekstu: Maciej Lewandowski

WARSZTAT

Centrum Nauki Leonardo da Vinci powstaje na terenie zabytkowego założenia dworskiego w Podzamczu Chęcińskim koło Kielc. Zielony dach przekrywający siedzibę tej nowej instytucji muzealno-edukacyjnej w regionie zajmuje powierzchnię blisko ćwierć hektara. To zarówno bufor termiczny, ogólnodostępna przestrzeń, jak i część ekspozycji – o realizacji obiektu pisze jego współautor Marcin Brataniec. Fot. Marcin Brataniec / EM4 Pracownia Architektury. Brataniec

ZAWÓD ARCHITEKT

Staram się przesuwać granice ogólnie akceptowanych wartości estetycznych. Daje to szansę na stworzenie czegoś nowego – rozmowa z Andrzejem Kikowskim, autorem MCSW Elektrownia w Radomiu

20 LAT "ARCHITEKTURY-MURATOR"


Ilustrowana historia miesięcznika: 1994-2014
Odcinek siódmy, poświęcony organizowanej przez naszą redakcję Nocy Tańczących Budynków, narysowała Pola Kowalewska, autorka publikowanych w sieci, cieszących się dużą popularnością komiksów Jagoda Wolałaby Nie Zostać Pożarta Tej Nocy czy anglojęzycznego Set in on Random

CZYTELNIA

Nowe pozycje z własnego księgozbioru poleca architekt, publicysta i fotografik Bohdan Paczowski, współzałożyciel luksemburskiej pracowni Paczowski et Fritsch. Zbiór esejów Waltera Gropiusa Pełnia architektury recenzują Piotr Lewicki i Kazimierz Łatak, a anglojęzyczne wydanie monografii Stephane'a du Chateau, wybitnego konstruktora urodzonego w Polsce, pióra Tadeusza Baruckiego – Grzegorz Stiasny

CO SIĘ PROJEKTUJE


Szkoły dla nowych osiedli
Zarząd Inwestycji Miejskich we Wrocławiu ogłosił ostatnio dwa konkursy na projekty nowych kompleksów szkolno-przedszkolnych na terenie intensywnie rozbudowujących się osiedli: Stabłowic i Gaju. Jeden wygrały pracownie VROA i CH+, drugi – Tadeusz i Adam Derlatkowie, Agnieszka Gozdek i Joanna Migut

W NASTĘPNYM NUMERZE

Podsumowanie tegorocznego Biennale Architektury w Wenecji

Pawilon Obsługi Turystów w Brzezince