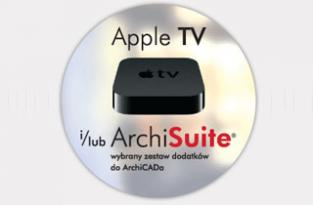 Do końca maja każdy nabywca ArchiCADa 15 otrzymuje w prezencie Apple TV i wybrany zestaw dodatków ArchiSuite, a każdy nabywca ArchiCADa STAR(T) Edition 2012 otrzymuje w prezencie Apple TV lub wybrany zestaw dodatków ArchiSuite.
Uwaga!
1. Nabywcy ArchiCADa 15 przystępujący do ArchiCLUBu kupują program ze zniżką, a także otrzymają aktualizacje do kolejnej wersji programu w ramach umowy abonamentowej.
2. Cena: od 6.900 zł netto ArchiCADa STAR(T) Edition dla wybranych grup nabywców.
Apple TV
Apple TV to kolejne rewolucyjne urządzenie firmy Apple. Apple TV nie tylko udostępnia szereg serwisów internetowych na ekranach telewizorów ze złączami HDMI, lecz jest też znakomitym urządzeniem prezentacyjnym łączącym bezprzewodowo telefony iPhone lub tablety iPad (a także telefony z systemem Android) z telewizorami lub projektorami wyposażonymi w wejście HDMI, również w technologii HD.
Zestawy ArchiSuite firmy Cigraph
Zestawy ArchiSuite firmy Cigraph to praktyczne dodatki ułatwiające i przyspieszające wykonywanie niektórych nietypowych operacji w programie ArchiCAD. W promocji można otrzymać jeden z zestawów do wyboru.
ArchiCAD
ArchiCADa przedstawiać nie trzeba - jest najpopularniejszym specjalizowanym programem służącym projektowaniu architektury i wnętrz (popularnym też w takich dziedzinach, jak: urbanistyka, projektowanie zieleni, scenografia teatralna). Podstawą jego koncepcji jest zintegrowane informacji o projektowanym budynku w wirtualnym modelu BIM. Pomimo swego zaawansowania ArchiCAD jest programem obsługiwanym intuicyjnie. ArchiCAD ma te zalety dzięki temu, że powstał wyłącznie z myślą o architekturze. Wstępna realizacja idei przestrzennej w komputerze umożliwia samoczynne generowanie i aktualizowanie rysunków, dzięki czemu projektanci mogą skupić się na twórczych aspektach swej pracy.
Więcej informacji www.archicad.pl >>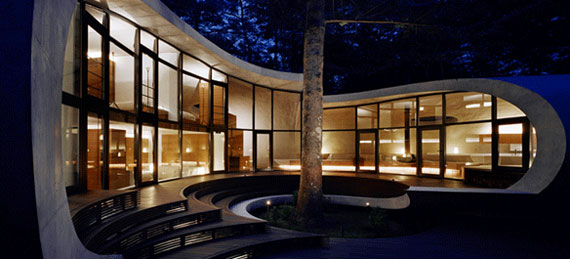 Wasze opinie
Dodaj komentarz:
Jak wstawić obrazek lub link do komentarza?
Drogi Czytelniku W-A.pl - w komentarzach w W-A.pl możesz wstawić zarówno linki jak i obrazki z zewnętrznych serwerów.
Aby wstawić aktywny link wpisz przed nim znaki [www], a po nim [/www] np. [www]www.w-a.pl[/www]
Aby wstawić obrazek wpisz przed jego adresem znaki [img], a po nim [/img] np. [img]www.w-a.pl/obrazek.jpg[/img]
UWAGA: Szerokość "cytowanych" obrazków może wynosić maksymalnie 570 pikseli. Wszystkie większe formaty nie będą wyświetlane.
W razie pytań i problemów piszcie do nas portal(at)w-a.pl
Redakcja W-A.pl nie odpowiada za treść opinii wyrażanych przez internautów piszących na stronach W-A.pl