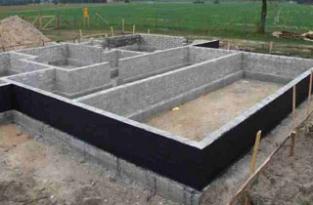 Wybór domu oraz wybór działki określa rodzaj najbardziej optymalnego rozwiązania posadowienia naszego domu. Dobór odpowiedniego fundamentu pod dom jednorodzinny jest jedną z kluczowych spraw. To dobrze dobrany fundament zapewni stabilność oraz wygodę i zdrowie nasze i naszej rodziny.
Fundament jest to element łączący część nadziemną domu z podziemną. Ma za zadanie przekazywanie ciężaru na grunt w sposób równomierny. Zależy nam na tym aby nasz dom w skutek upływu czasu osiadał równomiernie. Pozwoli nam to na unikniecie pękania ścian domu w przyszłości oraz uniknięcia wpływu wód gruntowych, a także opadowych w postaci zawilgoceń, aby zapewnić nam jak najbardziej optymalne warunki eksploatacji. Dobrze dobrany fundament zapewni nam stabilność oraz solidność naszego domu.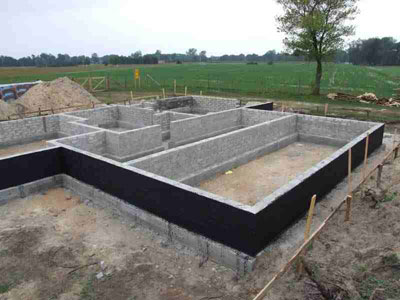 Na to jaki fundament zapewni najbardziej optymalne rozwiązanie dla nas ma wpływ :
- rodzaj gruntu na naszej działce
Dobrym posunięciem jest wykonanie badań geotechnicznych - koszt około 1500 PLN. W skali całej inwestycji nie jest to wielki koszt, a pozwoli zapobiec złemu doborowi fundamentu np.: roślinność typowo bagienna czy rzeczna jest oznaką iż na naszej działce teren może być podmokły.
- rodzaj naszego domu
Czy jest to dom jedno kondygnacyjny czy też dwu kondygnacyjny , oraz czy chcemy mieć część podpiwniczoną .
Nie bez znaczenia przy doborze rodzaju fundamentu pozostaje strefa przemarzania gruntu w naszym regionie. Fundament powinien sięgać poniżej głębokości przemarzania gruntu aby zapewnić prawidłową współpracę z gruntem podczas niskich temperatur.
Rozkład głębokości przemarzania gruntu dla polski jest zróżnicowany dlatego została sporządzona mapa, pozwalająca stwierdzić w jakiej strefie będzie znajdował się dom.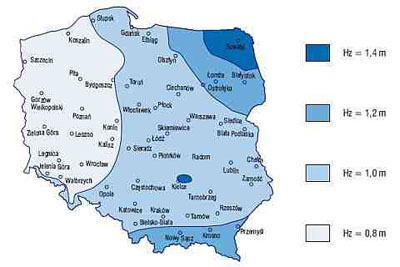 Kupując gotowy projekt domu, zazwyczaj mamy już określony sposób posadowienia domu. Warto zwrócić uwagę na to, że projekty są wykonywane dla najczęściej spotykanych rodzajów gruntów. Badanie geotechniczne naszej działki potwierdzi dobór odpowiedniego rodzaju fundamentu , i w razie potrzeby da nam sygnał oraz dane do ewentualnych zmian posadowienia w naszym projekcie, uwzględniając rodzaj gruntu na naszej działce, poziom warstwy nośnej przyjmuje się że dobra nośność gruntu to co najmniej 150 kPa/m2 oraz poziom wód gruntowych. Musimy także zwrócić uwagę, czy nasza działka nie jest terenem nasypowym, gdyż będzie to wymagało doboru odpowiedniego sposobu posadowienia budynku.
Jeżeli nasza działka jest na skarpie, dzięki badaniom geotechnicznym jesteśmy w stanie sprawdzić stabilność skarpy i ewentualnie podjąć działania w celu jej ustabilizowania. Jak pokazały obfite opady w ostatnich latach, nieodpowiednie zabezpieczenie skarpy powodowało spływanie, spełzanie lub też osuwanie się skarpy. Następstwem były pęknięcia ścian budynków lub nawet całkowite zniszczenia domów.
Warto te aspekty rozważyć konsultując badania geotechniczne z naszym projektantem. Na podstawie badań geotechnicznych, projektant dokonuje optymalnego doboru rodzaju posadowień aby otrzymać:
minimalne i równomierne osiadanie budowli oraz jej stateczność

właściwą głębokość posadowienia (na warstwie gruntu o odpowiedniej nośności i poniżej głębokości przemarzania gruntu)

łatwość wykonania zabezpieczenie budowli przed zawilgoceniem
Posadowienia bezpośrednie to rodzaj posadowienia bezpośrednio przekazującego obciążenia na grunt. W tej grupie rozróżniamy
ławy fundamentowe (pod murami lub szeregiem słupów) ;

stopy fundamentowe (pod słupami, filarami);

płyty fundamentowe;

ruszty fundamentowe (stosowane na gruntach słabonośnych w celu zwiększenia sztywności);

skrzynie fundamentowe (stosowane na terenach szkód górniczych
Posadowienie pośrednie to rodzaj posadowienia przekazujące obciążenie pośrednio na grunt
pale fundamentowe

Podział pali ze względu na sposób pracy

- pale normalne – przekazują obciążenie na grunt przez tarcie na pobocznicy i opór pod stopą pala

- pale zawieszone – przekazują obciążenie na grunt przez tarcie na pobocznicy pale

- pale stojące – przekazują obciążenie na grunt przez stopę pala (np. pale oparte stopą na skale)

studnie fundamentowe

kesony (wykonywane poniżej poziomu wody)

ściany szczelinowe/barety

kolumny

słupy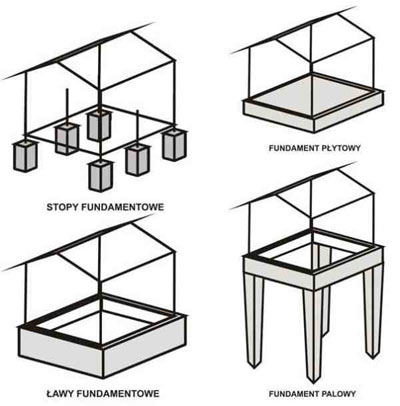 Najczęściej wykonywane posadowienia domów są z:
-betonu
-żelbetonu
Zadbajmy o to aby nasz fundament był wykonany z jak najwyższej jakości materiałów.
Cement i mieszanka betonowa
Dobrej jakości cement determinuje jakość mieszanki betonowej. Warto zwrócić uwagę na szczegóły, tzn.: czy był dobrze składowany, czy nie minął termin przydatności do użycia - termin ten powinien być podany na worku, np.: cement portlandzki nie powinien być przechowywany dłużej niż 6 mc. Jeżeli z jakichkolwiek powodów musimy przesunąć termin naszej realizacji, najlepiej odsprzedać zakupiony cement jeżeli grozi przekroczeniem terminu przydatności. Mało znanym faktem jest fakt, że stosowanie cementu po dacie ważności jest równoznaczne ze złamaniem przepisów budowlanych.
Poza wymienionymi wyżej właściwościami nasz fundament powinien odznaczać się jak najmniejszą nasiąkliwością. Można podwyższyć tą wartość stosując odpowiednie dodatki do betonu np.:
domieszki napowietrzające powodują powstawanie dużej ilości mikropęcherzyków wewnątrz mieszanki, dzięki czemu zmniejsz się nasiąkliwość, zwiększa mrozoodporność. Powoduje to także utrudnienia w podciągach kapilarnych. Domieszkę stosuje się do betonu odznaczającego się zwiększoną trwałością oraz dużą odpornością na oddziaływanie atmosferycznych czynników oraz agresywnego środowiska.

domieszki zwiększające wodoodporność zmniejszają absorpcję kapilarną stwardniałego betonu, przez co utrudniają penetrację i przepływ wody w materiale. Działają one fizycznie oraz chemicznie.

domieszki o działaniu fizycznym zmniejszają przekrój porów i kapilar i działają głównie uszczelniająco.

domieszki o działaniu chemicznym wchodzą w reakcję z niektórymi składnikami cementu, tworząc związki nierozpuszczalne, które wypełniają pustki w betonie.
Kruszywo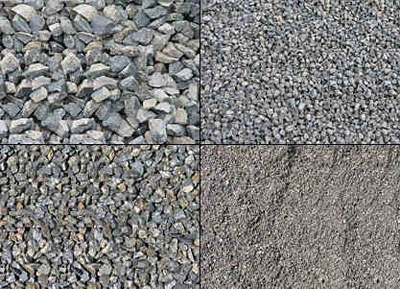 Dobre kruszywo o odpowiednich parametrach zapewni dobrą jakość posadowienia. Warto wiedzieć, że zanieczyszczenia znajdujące się w złej jakości kruszywie mogą spowodować utrudnienia w wiązaniu i twardnieniu betonu, co przyczynia się do zmniejszenia wytrzymałości i szczelności betonu, czyli cech na których nam bardzo zależy. Może to zaowocować odpryskami oraz zakłócić ochronę antykorozyjną zbrojenia, a tego byśmy też nie chcieli.
Zbrojenie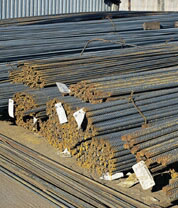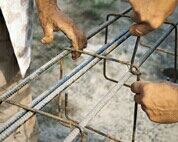 W projekcie budowlanym mamy ściśle określone z jakiego materiału ma być zbrojenie naszego fundamentu oraz jakiej stali i jakiego kształtu i grubości. Nie wolno samodzielnie wprowadzać zmian w wartościach podanych w projekcie. Dobrze jest założyć około 10 % naddatek na długościach na docięcie.
Zbrojenia mogą i powinny dokonywać osoby z odpowiednimi uprawnieniami.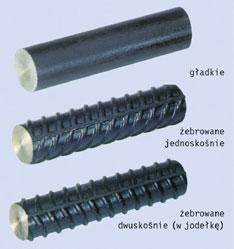 Dokonywanie zmian w rodzaju i jakości oraz kształcie zbrojenia bez akceptacji projektanta jest zabronione ,ponieważ zbrojenie zostało obliczone dla odpowiedniej wytrzymałości posadowienia. Wprowadzanie jakichkolwiek zmian na własną rękę może doprowadzić do katastrofy budowlanej.
Staranne wykonanie zbrojenia i mieszanki betonowej, według zasad sztuki budowlanej daje nam pewność naszej inwestycji. Najlepiej jest wiele rzeczy sprawdzić nawet dwa razy i ewentualnie poprawić aby uniknąć niemiłych niespodzianek.
Drenaż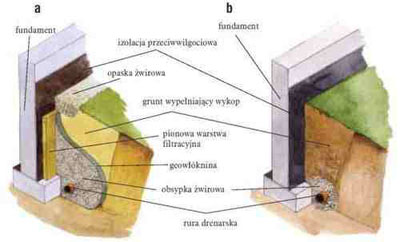 Do dodatkowego zabezpieczenia przed zamakaniem należy wykonanie drenażu. Niekiedy konieczne jest wykonanie badań geotechnicznych, które wskażą poziom wód gruntowych.
Drenaż fundamentów powinien być wykonany według wykonanego projektu dla danej działki i tu również pomocne będzie nam badanie geotechniczne, pozwoli na wykonanie odpowiednich wyliczeń aby namiar wody gruntowej czy też opadowej był odprowadzany . Tu też musimy zwrócić uwagę na to aby wykonany drenaż był odpowiednio wydajny, aby nawet przy zwiększonej ilości opadów uniknąć zawilgocenia, a co za tym idzie podciągów oraz zagrzybienia i pleśni.
Izolacja fundamentu
Pełna izolacja fundamentu jest równie ważną sprawą, co sam rodzaj fundamentu.
Izolację fundamentów podzielić można na :
Przez zastosowanie odizolowania fundamentów od dalszej części domu czyli ścian oraz podłogi poprzez zastosowanie odpowiednich substancji oraz materiałów - stosujemy tu często hydroizolacje
Wykonujemy podobnie do poziomej, z tą różnicą że tutaj hydroizolacje stosowane są po obu stronach fundamentu przez pokrycie odpowiednim preparatem izolującym przed nasiąkaniem fundamentów wodą. Dobrym rozwiązaniem jest wykonanie także termoizolacji ścian fundamentów -też przy zastosowaniu odpowiednich materiałów izolacyjnych odpornych na odziaływanie gruntu oraz gryzoni.
Podsumowując dokładność oraz dbałość przy wykonaniu pierwszej fazy naszej budowy jaką jest wykonanie posadowienia jest podstawą do tego aby dalsza część inwestycji przebiegała sprawnie.
Poza tym odpowiednie wykonany fundament przyniesie nam wymierne korzyści w przyszłości w formie mniejszego zużycia energii, a co za tym idzie odciążenia środowiska naturalnego oraz negatywnego wpływu na nie. Z zadowoleniem i dumą będziemy mogli w późniejszym czasie zbierać owoce naszej pracy, mogąc mieszkać w przyjaznym domu dla naszego zdrowia, natury oraz portfela.

Autor: Grzegorz Jackowski
Opracowanie: EcoSquad
Bibliografia:
Dz. U. z 1994 r. Nr 89, poz. 414 Ustawa z dnia 7 lipca 1994 r. – Prawo budowlane
budownictwopolskie.pl
www.budujemydom.pl/
www.pl.wikipedia.org/
Zdjęcia i grafiki: internet