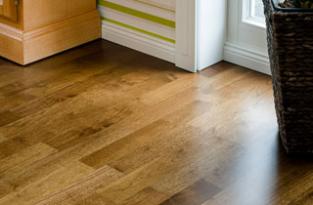 Podłoga drewniana prezentuje się znakomicie, jednak warto pamiętać o tym, że ma ona specjalne potrzeby, których zaspokojenie jest kluczowe, jeśli chcemy, by powierzchnia znajdowała się w świetnym stanie przez długie lata. Parkiet w kuchni musi być odporny na wilgoć, a poza tym łatwy do utrzymania w czystości - jego systematycznie szorowanie mogłoby być zarowno szkodliwe dla powierzchni, jak i uciążliwe dla osoby zmuszonej wykonywać tego rodzaju zabiegi. Jakie sposoby warto stosować w celu zapewnienia ochrony parkietowi kuchennemu?
Drewno na podłogę w kuchni
Wśród licznych gatunków drewna, jakie mamy do wyboru, znajdują się takie, które są bardzo wrażliwe i szybko niszczeją, jednak nie brakuje również wytrzymałych i zadziwiająco trwałych. Pierwszą grupą nie warto interesować się w opisywanym kontekście, natomiast przedstawiciele drugiej to: jesion, dąb i buk oraz jatoba, merbau i doussie. Twarde, bez sęków, o jednolitej barwie i równomiernym usłojeniu – drewno stosowane do produkcji desek, z których w przyszłości ułożona zostanie podłoga w kuchni, powinno być właśnie takie. Wybór odpowiedniego gatunku surowca to jednak dopiero początek.
Zabezpieczenie drewna
Na czym właściwie polega ochrona parkietu w kuchni? Podstawowe zabiegi pielęgnacyjne to lakierowanie i olejowanie. Drewno pokryte odpowiednio grubą warstwą ochronną staje się odporne na szkodliwe działanie ultrafioletu, dzięki czemu nie wybarwia się w kontakcie z promieniami słonecznymi. Poza tym nie jest tak podatne na szkodliwe działanie wilgoci i nie niszczeje w trakcie szorowania. Dodatkowo, plamy powstałe na śliskiej i nieprzenikalnej warstwie lakieru lub oleju usuwa się w mgnieniu oka.
Lakierowanie i olejowanie to zabiegi, które należy powtarzać regularnie - co kilka miesięcy, oczywiście przy zastosowaniu właściwych preparatów. Odpowiednie zabezpieczenie drewna wymaga pracy, jednak efekty, jakie można osiągnąć, w pełni wynagradzają podjęty trud – podłoga z drewnianych desek ułożona w kuchni prezentuje się znakomicie.
Więcej na temat pielęgnacji parkietu dowiesz się na parkiet.pl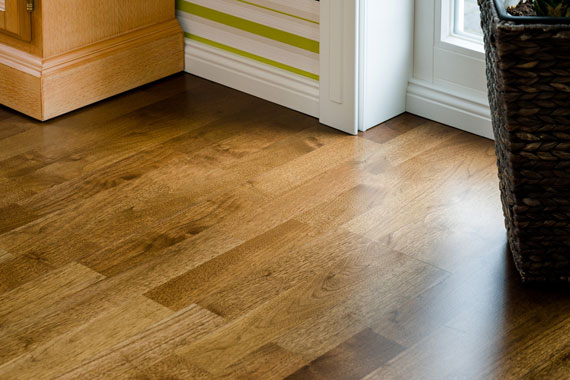 Wasze opinie
Dodaj komentarz:
Jak wstawić obrazek lub link do komentarza?
Drogi Czytelniku W-A.pl - w komentarzach w W-A.pl możesz wstawić zarówno linki jak i obrazki z zewnętrznych serwerów.
Aby wstawić aktywny link wpisz przed nim znaki [www], a po nim [/www] np. [www]www.w-a.pl[/www]
Aby wstawić obrazek wpisz przed jego adresem znaki [img], a po nim [/img] np. [img]www.w-a.pl/obrazek.jpg[/img]
UWAGA: Szerokość "cytowanych" obrazków może wynosić maksymalnie 570 pikseli. Wszystkie większe formaty nie będą wyświetlane.
W razie pytań i problemów piszcie do nas portal(at)w-a.pl
Redakcja W-A.pl nie odpowiada za treść opinii wyrażanych przez internautów piszących na stronach W-A.pl