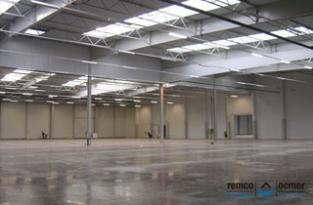 Na czym polega system kratownicowy? Co to są konstrukcje hybrydowe stalowo-żelbetowe? Jakie mają zastosowanie hale z kratownicą? Jakie zalety mają tego typu konstrukcje?
Hale z konstrukcją kratownicową to doskonałe rozwiązanie stosowane dla uzyskania optymalnej siatki słupów, co gwarantuje maksymalne wykorzystanie powierzchni obiektu. Zastosowanie systemu kratownicowego może być także uzasadnione ostatecznym przeznaczeniem hali.
System kratownicowy
Dlaczego użycie konstrukcji kratowej jest najkorzystniejsze dla uzyskania optymalnej siatki słupów? Ponieważ jest to najlżejsza konstrukcja. Właśnie masa własna konstrukcji jest jedną z największych zalet tego typu rozwiązań. Poza tym dźwigar kratowy ma dużo lepsze parametry wytrzymałościowe (sztywność i nośność) niż inne rozwiązania konstrukcji stalowych.
Istotną cechą konstrukcji kratownicowej jest możliwość przeprowadzenia przez dźwigar dachowy elementów instalacji wewnętrznej – pomiędzy pasami górnym i dolnym. W przypadku innych rodzajów konstrukcji (elementy blachownicowe, żelbetowe, gorącowalcowane) konieczne jest ominięcie elementu za pomocą kształtek oraz podwieszenie instalacji pod dźwigarem, co zmniejsza przestrzeń użytkową.
Kratownice przenoszą ciężar dachu równomiernie i dlatego konstrukcja jest odporna na działanie warunków atmosferycznych (śnieg, grad, wiatr). Druga istotna kwestia to zapewnienie stateczności poziomej, co sprawia, że dach i ściany boczne oraz szczytowe są stabilne.
Warto wiedzieć, że konstrukcja kratownicowa nie zawsze może być zastosowana. Ograniczeniem dla jej stosowania może być np. wysokość budowli, która znacząco może zmniejszyć stabilność konstrukcji.
Hale z konstrukcją kratownicową to świetne rozwiązanie stosowane dla uzyskania optymalnej siatki słupów, która daje gwarancję maksimum wykorzystania powierzchni obiektu. Użycie kratownic może być także uzasadnione przeznaczeniem hali. Jeśli na przykład hala ma być chłodnią, to jej sufit musi być płaski, a właśnie konstrukcja kratownicowa daje taką możliwość.
Ostateczny wybór konkretnego rozwiązania jest uzależniony od przeznaczenia i ceny realizacji inwestycji. Firmą, która zajmuje się generalnym wykonawstwem hal z kratownicą jest Ocmer Sp. z o.o. Projektuje hale przemysłowe na zamówienie, dostosowane do potrzeb klienta i według regulacji, które wynikają z technologii zastosowanych w halach produkcyjnych, sposobu składowania i rozlokowania regałów w halach magazynowych i logistycznych.
Zastosowanie hal z kratownicą
Kratownice stalowe są szeroko stosowane w typowych jednokondygnacyjnych budynkach przemysłowych o dużych powierzchniach, stanowiąc konstrukcję wsporczą pod poszycie dachu lub zapewnienie poziomej stateczności. Stosuje się je głównie w wielkopowierzchniowych halach przemysłowych, w których potrzeba dużo miejsca na swobodne ustawienie regałów. Dobrze sprawdzają się w halach wymagających płaskich sufitów (np. chłodnie). Dźwigary kratowe znajdują zastosowanie nie tylko w konstrukcjach stalowych, ale także hybrydowych żelbetowo-stalowych.
Konstrukcje żelbetowe są coraz częściej wykorzystywane w obiektach przemysłowych ze względu na naturalną odporność ogniową (zdolność do spełnienia określonych wymagań w zakresie stateczności).
Choć obecnie najczęściej stosowane w budownictwie przemysłowym są hale stalowe, to jednak są sytuacje, kiedy hala o konstrukcji żelbetowej sprawdzi się lepiej. Konstrukcje te są odporne na obciążenia statyczne i dynamiczne. Poza tym hale żelbetowe mają lepszą ognioodporność.
Dość popularne w budownictwie przemysłowym są ostatnio tzw. hybrydy stalowo-żelbetowe, czyli połączenie obu konstrukcji, stanowiące pośrednie rozwiązanie. Dach ma konstrukcję stalową, a słupy wykonane są z ognioodpornego żelbetu.
Zalety konstrukcji kratownicowych
Za najważniejsze uważa się pięć podstawowych zalet konstrukcji, tj.:
Jest to jedna z największych zalet tego rodzaju konstrukcji, która jest najlżejsza z obecnie dostępnych na rynku.
Możliwość przeprowadzenia elementów instalacji wewnętrznych przez kratownice;
Dzięki temu nie zabiera się niepotrzebnie powierzchni użytkowej hali.
Duża nośność;
Wytrzymałość;
Konstrukcje kratownicowe są zatem bezpieczne i pozwalają na wszechstronną możliwość adaptacji.
Konstrukcje kratownicowe są opłacalne w przypadku zastosowania ich w obiektach przemysłowych o dużych rozpiętościach. Do ich produkcji zużywa się mniej stali niż w przypadku hal o konstrukcjach ramowych.
System ten ma także nieliczne wady. Wyprodukowanie kratownicy jest dość czasochłonne ze względu na łączenie ze sobą kilkunastu albo nawet kilkudziesięciu elementów w celu uzyskania 1 dźwigara. Uważa się, że najbardziej uzasadnione jest produkowanie dźwigarów o rozpiętości powyżej 20 m. Poza tym w warunkach ochrony przeciwpożarowej istnieje konieczność zastosowania zabezpieczeń w postaci powłok malarskich lub innych rozwiązań.
Podsumowując, konstrukcja kratownicowa jest lekka, wytrzymała, mająca dużą nośność, jest opłacalna w przypadku zastosowania w halach o dużych rozpiętościach, gdzie konieczny jest montaż instalacji pod połacią dachu.
Przykłady realizacji hal z kratownicą
Przykładem realizacji hal z konstrukcją kratową jest hala magazynowa o powierzchni 8907 m2 zbudowana dla firmy BSH Sp. o.o. w Bukowcu koło Łodzi. Wykonawca, czyli firma Ocmer wykonała pełnobranżową dokumentację budowlaną, uzyskała pozwolenie na budowę oraz wybudowała obiekt.
Kolejny obiekt tego typu to drukarnia o powierzchni 2000 m2 wybudowana dla firmy Hornet w Łodzi. W tym przypadku wykonawca także stworzył pełnobranżową dokumentację budowlaną, uzyskał pozwolenia na budowę i wybudował obiekt.
Więcej informacji na temat nowoczesnych hal z kratownicą znajdziesz na: http://www.ocmer.com.pl/hale/hale-z-kratownica