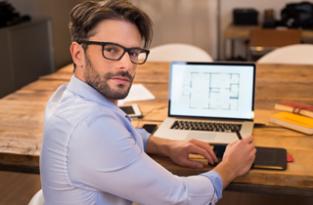 AutoCAD jest narzędziem, które pozwala na swobodne dostosowanie interfejsu do potrzeb użytkownika. Możemy decydować o wyglądzie i rozmiarze wskaźnika myszy, kolorze tła i poszczególnych elementów, zawartości wstążki, widoczności ikon na paskach oraz o wielu innych ustawieniach. Dodatkową wygodą jest opcja ustawienia własnych skrótów klawiszowych w celu przyspieszenia pracy projektowej. Jak to zrobić?
Aby przejść do edycji skrótów klawiszowych w AutoCAD, należy w programie przejść do zakładki Zarządzaj i kliknąć w polecenie Edytuj aliasy. Spowoduje to otworzenie zewnętrznego pliku tekstowego o nazwie acad.pgp. Warto poświęcić chwilę na przestudiowanie jego zawartości. W starszych wersjach AutoCADa ikona polecenia może nie występować. W takim wypadku domyślna ścieżka lokalizacji wspomnianego pliku to:
C:UsersAppDataRoamingAutodeskAutoCAD 20XXRXX.XplkSupport
gdzie X zależy od wgranej wersji AutoCADa. Przed wprowadzaniem zmian warto zapisać gdzieś kopię zapasową pliku pod inną nazwą
W otwartym pliku tekstowym wystarczy wyszukać (za pomocą kombinacji klawiszy CTRL+F) interesujące nas polecenie i wedle uznania zmienić przypisany do niego skrót. Należy przy tym uważać, aby nie naruszyć umieszczonej tam struktury wierszy i znaków, gdyż może to spowodować problemy z odpowiednim odczytywaniem ustawień przez program. Ta metoda jest najprostsza, gdy chcemy zmienić niewielką liczbę skrótów. Jej minusem jest to, że łatwo można pogubić się w długiej liście poleceń, a po pewnym czasie nawet zapomnieć, które skróty były edytowane, a które nie. Z tego powodu lepszym rozwiązaniem będzie (zgodnie z podpowiedzią zawartą w pliku acad.pgp) umieszczenie skrótów na samym końcu, w przeznaczonym do tego celu miejscu.
Warto przemyśleć sobie układ skrótów na klawiaturze tak, aby polecenia, których używamy wspólnie, umieszczone były blisko siebie. W ten sposób wygodnie będzie przemieszczać się palcami po klawiszach. Dodatkowym usprawnieniem będzie modyfikacja działania prawego klawisza myszy. Zatwierdzenie wybranego skrótu wcale nie musi się odbywać za pomocą wciśnięcia ENTER. To wymagałoby odsunięcia ręki od grupy skrótów na prawą stronę klawiatury. Dlatego wygodniej operować dłonią, która obsługuje mysz. Aby tego dokonać, należy zmienić ogólne ustawienia programu (komenda "OPCJE" lub "_OPTIONS") w zakładce Parametry użytkownika -> Ustawienia prawego klawisza myszy.
Do nowych ustawień trzeba będzie się przyzwyczaić, ale po pewnym czasie z pewnością można będzie odczuć poprawę wydajności i wygody pracy z programem AutoCAD. Z tego właśnie powodu zachęcam do poświęcenia odrobiny czasu do spersonalizowania interfejsu. W razie konieczności poznania bardziej zaawansowanych możliwości AutoCADa warto wziąć udział w szkoleniu z tej aplikacji, organizowanym najczęściej przez Autoryzowanego Partnera Autodesk. W Warszawie i w centralnej Polsce wiodącą firmą szkoleniową jest Autoryzowane Centrum Szkoleniowe AEC Design.