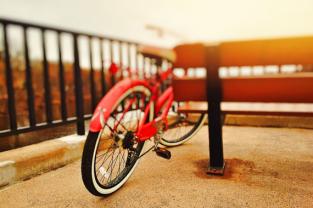 Design - słowo to słyszymy niemalże wszędzie, jednak większość z nas nie wie, czym tak naprawdę on jest. Wielu z nas myśli, że słowo to jest synonimem wyglądu, jednak nie ma to nic wspólnego z prawdą. Warto więc wyjaśnić, czy "design" może dotyczyć nawet przedmiotów takich jak... wieszaki na rowery.
Przemyślana aranżacja wnętrza


Należy podkreślić, że pod hasłem design nie kryje się nic innego jak rozwiązywanie problemów i czynienie tychże rozwiązań możliwie najprostszymi. Oznacza to, że w przypadku wieszaków na rowery jak najbardziej możemy mówić o designie, gdyż przedmioty te rozwiązują w prosty sposób problem związany z przechowywaniem roweru w mieszkaniu.

Wieszak na rowery pozwala bowiem w szybki i bezpieczny sposób zamontować je do ściany lub sufitu, by nie zajmowały one dużo miejsca oraz by nie uległy one awarii podczas przechowywania w domu. Te proste haki i podesty są więc doskonałym przykładem, jak rozwiązać problem zbyt małej powierzchni mieszkania, niszczenia roweru podczas przechowywania go na zewnątrz oraz niebezpieczeństwa jego kradzieży podczas pozostawiania go w piwnicy.

Wieszak, a może coś więcej?


Najsłynniejsi designerzy od lat proponują nam rozwiązania, które mają łączyć w sobie wiele funkcji. Nie inaczej jest w przypadku wieszaków na rowery. W zwykłych sklepach rowerowych znajdziemy co prawda jedynie proste mocowania, jednak w Internecie i w sklepach z designerskimi meblami możemy znaleźć tak ciekawe przedmioty jak półka ścienna na klucze, pocztę i gazety z możliwością przywieszenia roweru do ściany za ramę.

Tego typu wieszak na rowery, pełniący również funkcję półki, można było obejrzeć na najważniejszych imprezach dla projektantów, np. na London Design Week, gdzie prezentowane są także inne, równie ciekawe rozwiązania, pomagające mądrze zaprojektować przestrzeń nawet niewielkiego mieszkania.

Do it yourself


Wieszaki na rowery można nabyć w sklepach, jednak jeżeli wybór mocowań z tradycyjnej oferty nam nie odpowiada, możemy wykonać wieszak na nasz ulubiony pojazd samodzielnie. Do tego celu można wykorzystać zarówno profile stalowe, jak i mniej typowe przedmioty jak np. stara kierownica od roweru - wieszak można bowiem wykonać niemalże ze wszystkiego.

Robiąc wieszak na rowery samodzielnie, trzeba jednak pamiętać o tym, by uwzględnić przy tym wagę naszego pojazdu - mocowanie musi mieć bowiem odpowiednią nośność. Ponadto warto pamiętać o tym, by wszelkie metalowe elementy konstrukcji obłożyć pianką, by chronić rower przed zarysowaniami zwiększającymi ryzyko korozji dwukołowca.

Artykuł powstał we współpracy z firmą Calus P