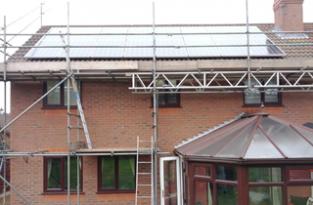 Jeszcze paręnaście lat temu zdjęcie z widokiem paneli fotowoltaicznych budziło w nas dość egzotyczne skojarzenia - pasować mogły do stacji kosmicznej czy bazy wojskowej na skraju pustyni. Dziś dumnie prezentują się na dachach coraz większej liczby domów pod Krakowem czy Warszawą. Czy to wyłącznie efekt mody, skutki ocieplenia klimatu, efekty unijnej polityki? Czy też może nowy, ciekawy pomysł na inwestycję, który ma przed sobą świetlaną przyszłość?
Obiektywnie i subiektywnie
W dyskusji na temat polskich inwestycji w słoneczne mikroelektrownie nie brakuje głosów sceptycznych. Panele słoneczne na naszej szerokości geograficznej, przy charakterystycznej dla Polski przewadze dni pochmurnych, nie są i nie będą w przewidywalnej przyszłości sposobem na zbudowanie fortuny. Wydajność oferowanych na rynku ogniw fotowoltaicznych rośnie jednak błyskawicznie, a ich ceny systematycznie spadają. Inwestycja rzędu kilkunastu tysięcy złotych wystarczy w zupełności, by stworzyć własną słoneczną elektrownię, która zaspokoi potrzeby przeciętnej rodziny. Niezwykła popularność fotowoltaiki i u naszych zachodnich sąsiadów, którzy na jej upowszechnienie postawili już wiele lat temu i dziś mogą pochwalić się mogą najwyższą na świecie liczbą domowych mikroinstalacji, daje do myślenia i dowodzi, że gra warta jest świeczki.
Decyzja o wyposażeniu domu, zwłaszcza nowobudowanego, w panele fotowoltaiczne rodzi się przy tym często nie tyle z chłodnej kalkulacji, co z przekonania, że sposób pozyskiwania energii w skali całego świata musi w najbliższych latach ulec zmianie. Według raportu RWE, łączna moc polskich elektrowni słonecznych wzrosła w roku 2015 aż trzykrotnie, do czego niewątpliwie przyczyniły się zarówno korzystne dla właścicieli źródeł energii odnawialnej zmiany w prawie, jak i wyjątkowo upalne lato oraz pamiętny sierpniowy kryzys energetyczny. Własne źródło prądu, które uniezależni nas od cen energii elektrycznej na najbliższych dwadzieścia - trzydzieści lat (tyle wynosi na ogół żywotność instalacji fotowoltaicznej), to powód, by we własną przyszłość patrzeć z większym optymizmem.
Autonomia czy dostęp?
O ile eksploatacja zamontowanych na własnym terenie paneli nie powinna sprawiać większych problemów, przed jej uruchomieniem musimy starannie rozważyć, w jaki sposób gospodarować będziemy wytwarzaną przez nie energią na przestrzeni roku. Choć w letnie dni nasza domowa elektrownia jest w stanie wytworzyć znaczne nadwyżki energii, w miesiącach zimowych jej efektywność spada nieuchronnie do bardzo niskich wartości. W chłodniejszym półroczu niezbędne okaże się czerpanie prądu ze zgromadzonych we własnych akumulatorach nadwyżek, albo - jeśli takich urządzeń nie posiadamy - od zewnętrznego dostawcy. Do wyboru mamy zatem dwie opcje: budowę autonomicznego systemu energetycznego z własnymi buforami, bez podłączenia do sieci (tzw. off grid) lub włączenie domowej mikroinstalacji do publicznej sieci i podpisanie umowy z wybranym dostawcą energii elektrycznej w Warszawie, który przejmie od nas nadwyżki i zapewni dostawy prądu na czas, gdy nasze własne ogniwa nie będą pracowały wystarczająco wydajnie w stosunku do potrzeb.
Na mecie legislacyjnego maratonu
Zasady współpracy między właścicielami mikroinstalacji a dystrybutorami energii elektrycznej stanowiły na przestrzeni minionych kilkunastu miesięcy przedmiot gorących debat między politykami, środowiskiem producentów energii odnawialnej i koncernami energetycznymi. Uchwalona w lutym 2015 roku Ustawa o odnawialnych źródłach energii (Dz.U. 2015 poz. 478) poddana została dwóm kolejnym nowelizacjom (z 29 grudnia 2015 oraz 22 czerwca 2016), jeszcze zanim jej uregulowania zdążyły wejść w życie. Wykreślono z niej między innymi nałożony na dostawców energii w pierwotnej wersji obowiązek skupywania dostarczanych do sieci nadwyżek od właścicieli niewielkich instalacji fotowoltaicznych po odgórnie określonej, dość wysokiej cenie, czyli według tak zwanych taryf gwarantowanych (FiT). W to miejsce wprowadzono tzw. zasadę opustu: za każdą jednostkę energii (kWh) z odnawialnych źródeł dostarczoną do sieci, odbiorca końcowy, zwany już oficjalnie prosumentem, ma prawo odebrać bezpłatnie 0,8 (dla instalacji o mocy do 10 kW) lub 0,7 jednostki energii w ramach ogólnego rozliczenia. Odnawialne źródło energii, wykorzystywane na własne potrzeby przez prosumenta, nie zostało zatem przez ustawodawcę potraktowane jako potencjalne źródło zarobków.
Choć wprowadzone na przestrzeni ostatnich miesięcy zmiany w prawie rozczarowały wielu entuzjastów zielonej energii, inwestycja w domowe panele fotowoltaiczne wciąż uznawana jest za opłacalną. Według szacunków Instytutu Energii Odnawialnej na pełny zwrot zainwestowanej w nie kwoty, przy finansowaniu w całości ze środków własnych, liczyć możemy jednak dopiero po upływie blisko 20 lat. Nieco szybciej, bo już po niespełna 13 latach, powinna się nam zwrócić inwestycja dofinansowana w 40% ze środków Narodowego Funduszu Ochrony Środowiska i Gospodarki Wodnej (NFOŚiGW) w ramach programu PROSUMENT. Jeśli planujemy skorzystać z takiego wsparcia, warto się pospieszyć - do końca 2016 przyznawane będą dofinansowania w wysokości 40%, później jednak pomoc wynosić ma jedynie 30%.
O tym, że wsparcie udzielone prywatnym właścicielom domów może opłacać się również dostawcom prądu, wie międzynarodowy koncern energetyczny RWE (www.rwe.pl/pl/dla-domu), który działa również w Polsce. Jego polscy klienci liczyć mogą na wsparcie na wszystkich etapach przeprowadzania inwestycji, od zapewnienia finansowania po montaż. Jeśli i w Warszawie fotowoltaika osiągnie z czasem taki sukces, jak w Berlinie, budowanie dobrych relacji z prosumentami będzie dla każdego dostawcy energii elektrycznej na wagę złota.