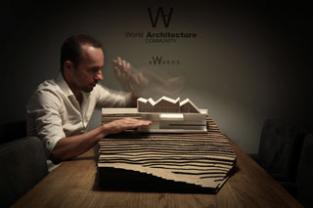 Dom Artysty projektu BXBstudio został jednym ze zwycięzców 18 cyklu międzynarodowego konkursu 20+10+X World Architecture Community.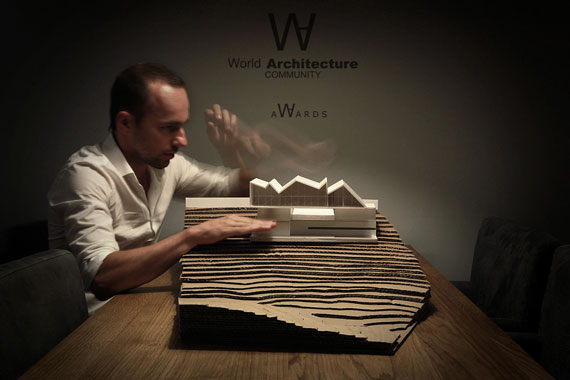 DOM ARTYSTY

Projekt: BXBstudio Bogusław Barnaś
Zespół: Bogusław Barnaś, Elena Casado Castrillo, Giulia Berloco
Współpraca: Filip Maciejowski
Wizualizacje & Grafika: BXBstudio Bogusław Barnaś
Konsultacje: Stefan Godecki
Lokalizacja: Konary, gm. Mogilany, k. Krakowa, Polska
Data: 2013
Powierzchnia: 615 m2
Klient: Prywatny
Wszelkie prawa do projektu i materiałów graficznych zastrzeżone wyłącznie dla BXBstudio.
Projekt jako bardzo twórczy proces myślowy polegający na poszukiwaniu optymalnego i najlepszego rozwiązania funkcjonalno – przestrzennego, powstawał równolegle na bazie modelu fizycznego i modelu komputerowego co pozwoliło w sposób pełny i wyczerpujący zrozumieć i zdefiniować przestrzeń działki, jej otoczenia, formę i funkcję domu jak również potrzeby klienta. Jako pierwszy powstał niewielki model roboczy w skali 1:500, który nakreślił pierwsze założenia. Pozwolił wyciągnąć pierwsze wnioski jak np. wykreowanie ramy widokowej w przestrzeni wejściowej - ujętej pomiędzy czterema inaczej zdefiniowanymi kubaturami domu. Na tym etapie również doszliśmy do wniosku, iż wolnostojący garaż który zgodnie z życzeniem klienta miał stanąć gdzieś obok, może być z domem wizualnie zintegrowany i pełnić funkcję podpory dla nadwieszonej kubatury. Następnie powstał model w skali 1:100 który pozwolił nam zdefiniować nie tylko formę domu korespondującą z sąsiednią zabudową ale również jego funkcję. Na bazie otrzymanej formy którą nazwaliśmy Domem Zagrodowym, rozpoczęliśmy pracę nad kolejnym – trzecim modelem fizycznym - mającą na celu nadanie bardziej ekspresyjnej, ekstrawaganckiej i artystycznej stylistyki projektowanego obiektu.
Kształt domu zarówno w wersji Domu Zagrodowego jak i Domu Artysty nawiązuje do sąsiedniej zabudowy charakterystyczną linią dachu. Z kolei funkcją i ekspresyjną formą odpowiada na potrzeby klienta – współczesnego artysty i twórcy.
Jednym z założeń stylistycznych było osiągnięcie emocjonalnego napięcia przeciwstawnych form, będących paralelą zróżnicowanych emocji artystycznych. Ekspresyjna nadwieszona bryła skontrastowana z linearną stonowaną bryłą przyziemia tworzy balans obrazujący przeciwstawne nastroje, przeciwstawne formy, barwy i faktury. Nadwieszona korodująca i zmienna w czasie kortenowa dynamiczna bryła jest oddzielona od horyzontalnego, betonowego, chropowatego przyziemia dwiema sześciennymi, gładkimi, szklanymi kubaturami, będącymi łącznikami i podporami dla przeciwstawnych brył. Te pokryte vitrolitem - przemysłowym mlecznym szkłem - dwie formy to wolnostojący garaż oraz hol wejściowy do domu do którego również możemy wjechać samochodem!
W charakterystyczny sposób zastał zaprojektowany dojazd i dojście do domu. Zestawione ze sobą bryły poszczególnych stref funkcjonalnych tworzą spektakularną ramę widokową, wiatę, taras a może nowo zdefiniowany zajazd popularny w historycznej architekturze dworskiej.
Właściwa część mieszkalna zlokalizowana w nadwieszonej bryle, dostępna jest poprzez klatkę schodową oraz windę. Jest w całości przeszklona i otwarta na rozległy widok, jednocześnie zamknięta na drogę i zabudowę sąsiednią. To pozwoliło zachować prywatność i intymność przy jednoczesnym znaczącym przeszkleniu strefy dziennej. Przestrzeń domu została zaaranżowana na jednym otwartym i czytelnym poziomie.
W betonowej przestrzeni przyziemia przewidziane zostały przestrzenie pomocnicze, techniczne, strefa gości oraz zewnętrzny taras z basenem. Jej zewnętrzna surowa faktura betonu z odciśniętymi słojami drewna stanowi formę podstawy domu osadzonej w stromym zboczu działki.
Dom Artysty to surowa, szczera, industrialna architektura w której dominują naturalne materiały. Wnętrze domu typu loft, z założenia surowe, o przestronnych otwartych wnętrzach, będzie korespondować z architekturą całego obiektu.
Wszelkie prawa do projektu i materiałów graficznych zastrzeżone wyłącznie dla BXBstudio
PO KLIKNIĘCIU POWIĘKSZENIA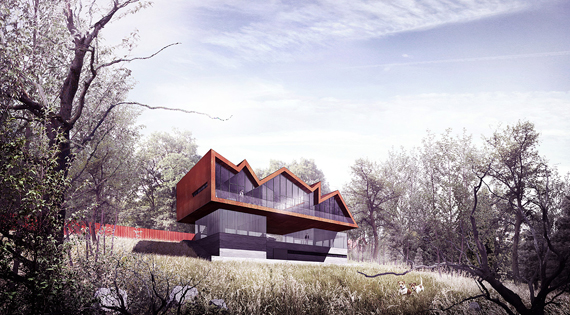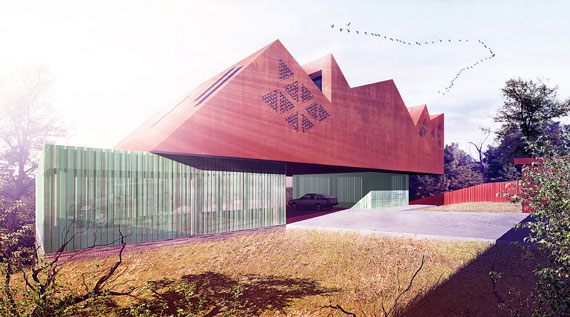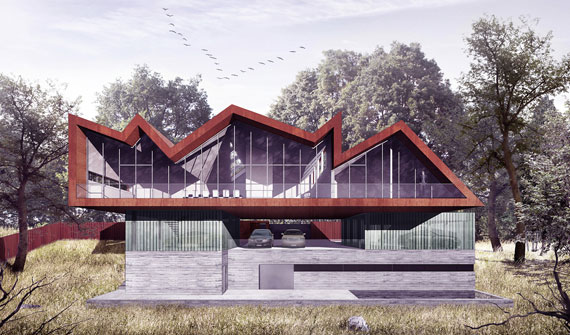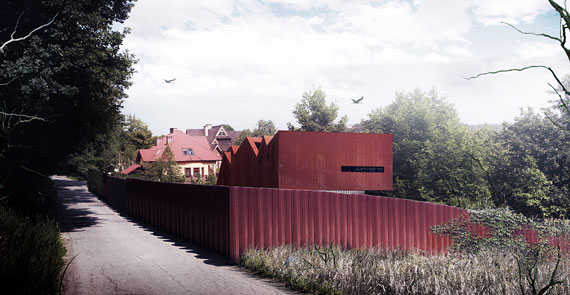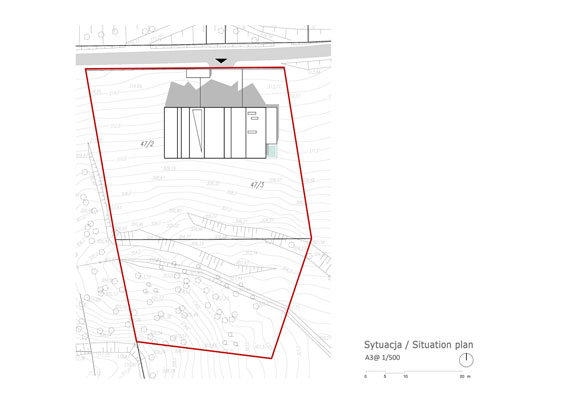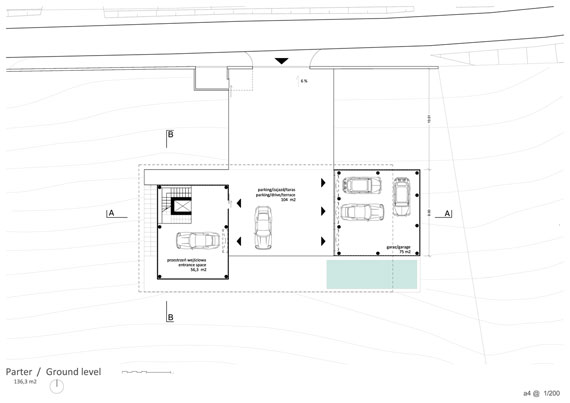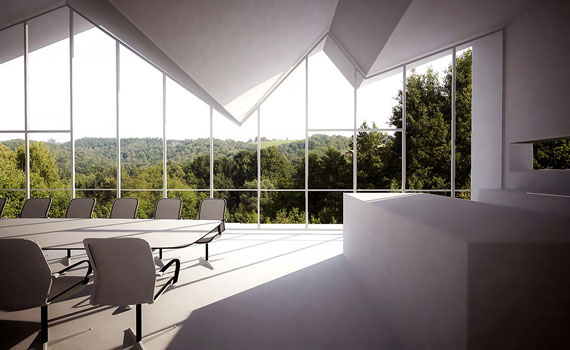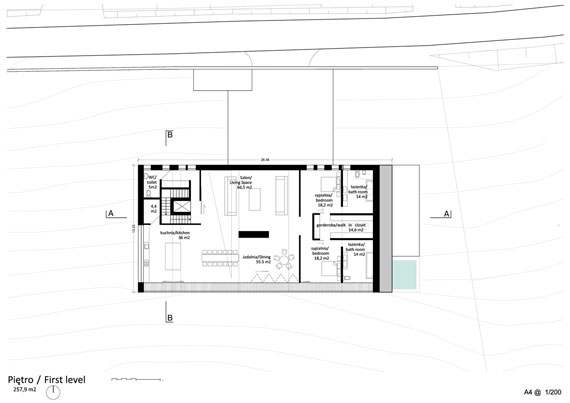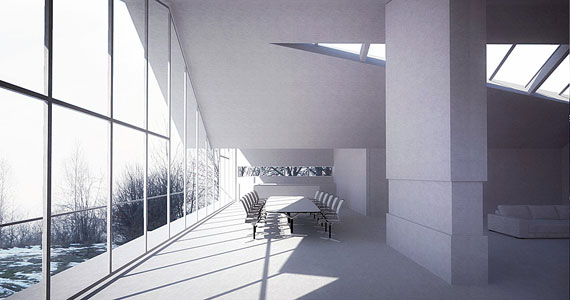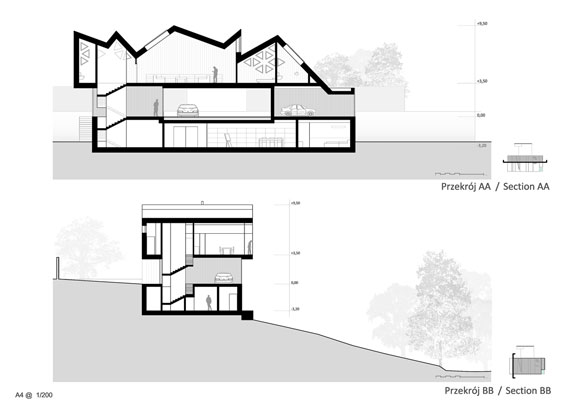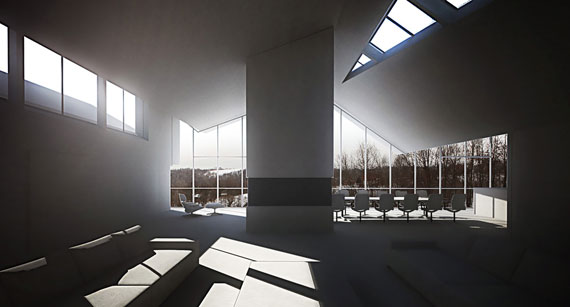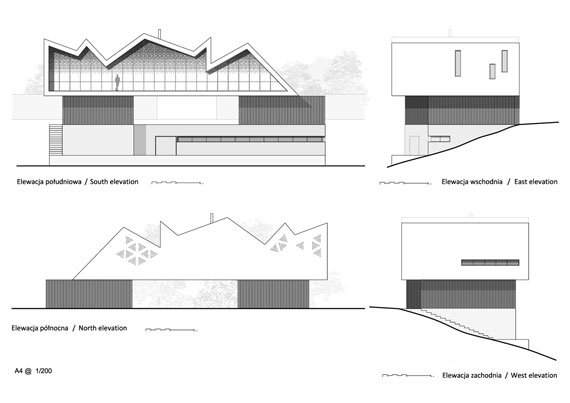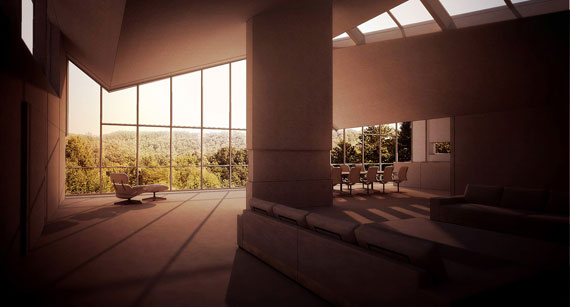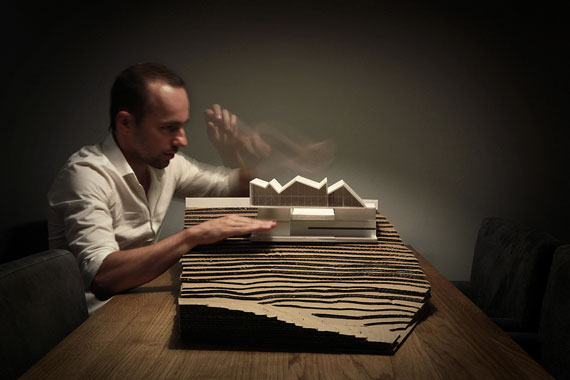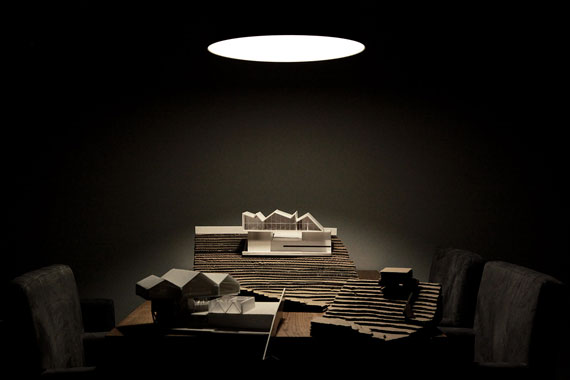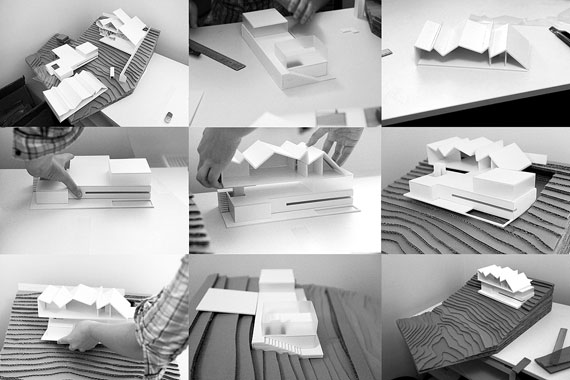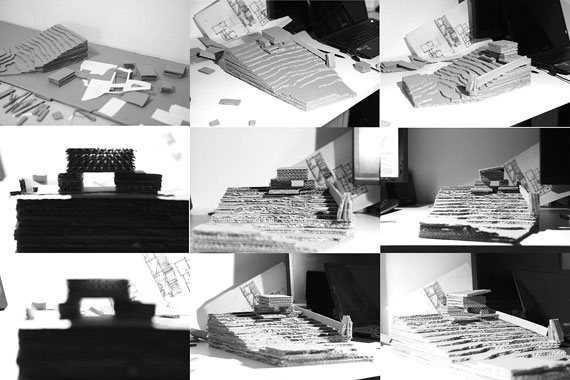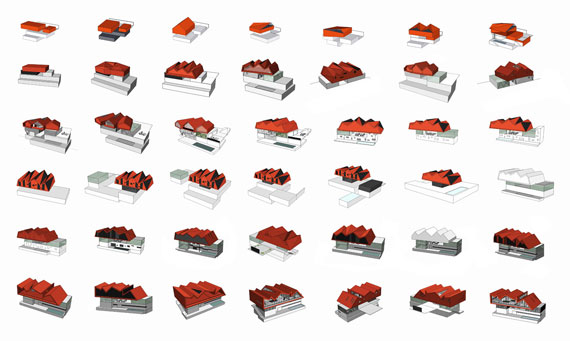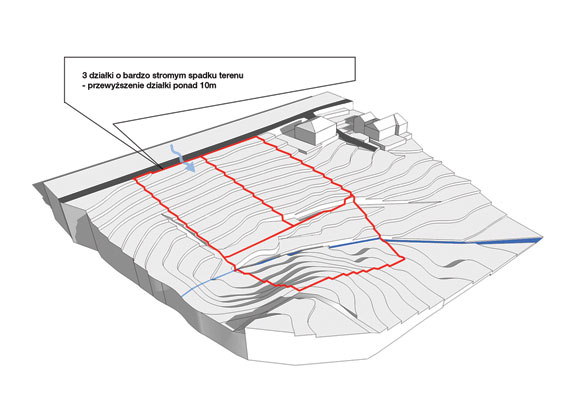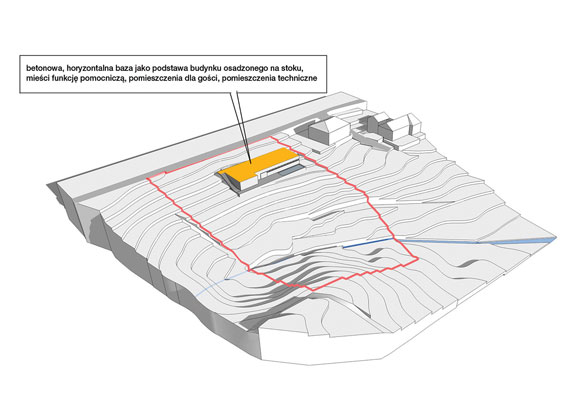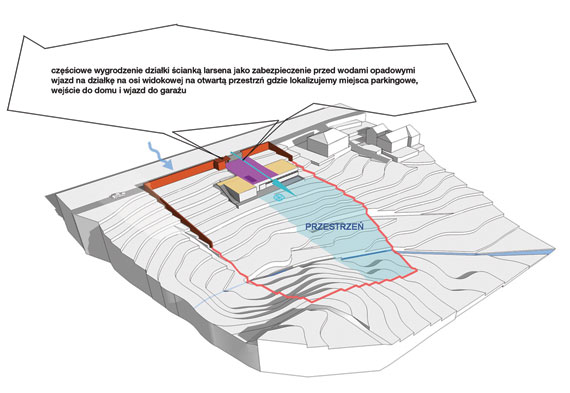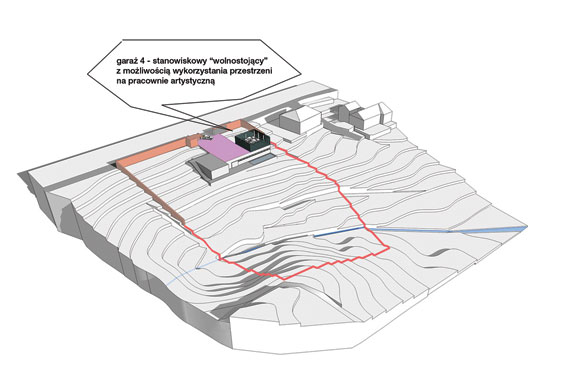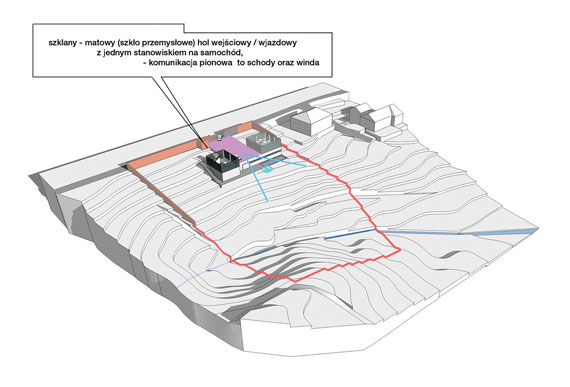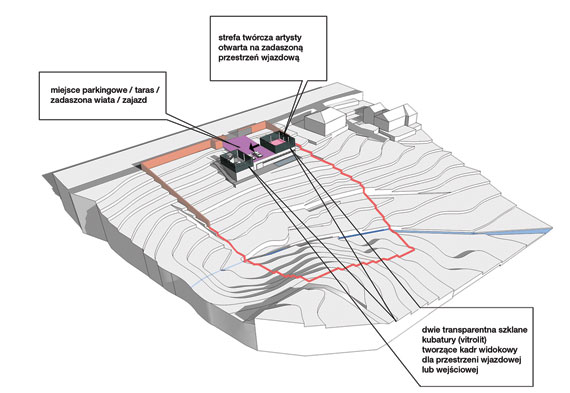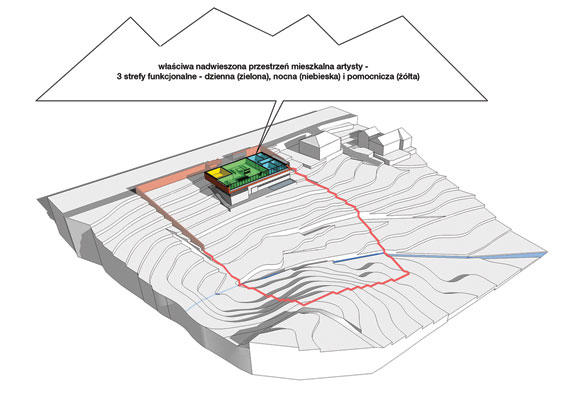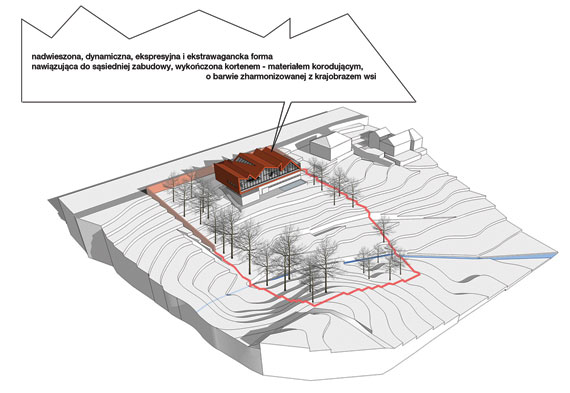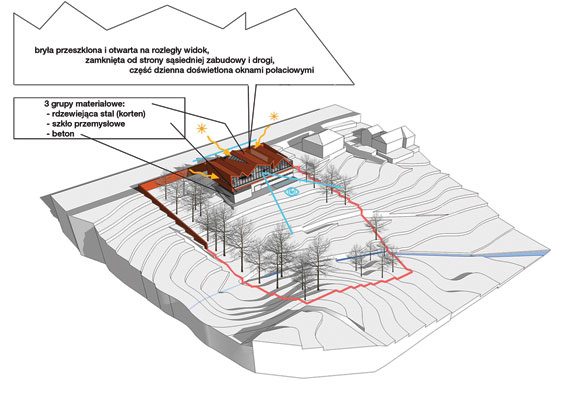 Wszelkie prawa do projektu i materiałów graficznych zastrzeżone wyłącznie dla BXBstudio.