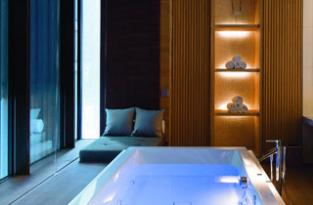 Firma Kaldewei wyposaża 5-gwiazdkowy hotel The Chedi w Szwajcarskich Alpach w ekskluzywne wanny wolnostojące
Ośnieżone szczyty, głębokie wąwozy, szumiące wodospady oraz krystalicznie czyste jeziora – w takiej imponującej górskiej scenerii Szwajcarskich Alp położony jest hotel The Chedi, którego architektura w niezwykle wyrafinowany sposób łączy tradycyjne elementy ze współczesnymi trendami. Źródłem inspiracji dla projektantów tego luksusowego obiektu były niewątpliwie pełne uroku szwajcarskie hotele sieci Grand oraz charakterystyczne dla tego regionu, utrzymane w alpejskim stylu drewniane domy wypoczynkowe, gwarantujące gościom odpoczynek w niepowtarzalnej atmosferze. W stylowych wnętrzach, otwartego 20 grudnia 2013 r. hotelu The Chedi, naturalne materiały takie jak: kamień, polerowane drewno oraz najwyższej jakości delikatną skórę połączono z elementami charakterystycznymi dla sztuki orientalnej. Azjatyckie akcenty obecne w wyposażeniu wnętrz podkreślają szczególną atmosferę tego miejsca nawiązującą do filozofii krajów Dalekiego Wschodu. Centralny punkt aranżacji łazienek w hotelu The Chedi stanowią wykonane ze stali emaliowanej Kaldewei wolnostojące wanny Centro Duo Oval, oraz inspirowane wpływami Japonii wanny Kusatsu Pool, a także najnowsze w portfolio firmy wanny Conopool.
Tradycja w połączeniu z wysublimowanym luksusem
Zewnętrzna fasada hotelu The Chedi wykonana z alpejskiego drewna zachwyca nawiązaniem do piękna otaczającego górskiego krajobrazu. W przestronnych, wysokich do 5m luksusowych wnętrzach, wyjątkową atmosferę tworzą naturalne materiały utrzymane w ciepłej kolorystyce, miękkie skórzane sofy, wygodne fotele, pledy z naturalnego futra, oraz stylowe, otwarte kominki. Przez ogromne panoramiczne okna goście mogą podziwiać ośnieżone alpejskie szczyty. O wyjątkowym charakterze tego miejsca stanowi niecodzienne połączenie tradycyjnych elementów wystroju z typowymi dla sztuki orientalnej akcentami takimi jak brązy z Bali. Ten wyjątkowy projekt jest dziełem znanego designera, specjalisty zajmującego się projektowaniem wnętrz luksusowych kurortów - Jeana-Michela Gathy ze studia Denniston Architects z siedzibą w Kuala Lumpur w Malezji. ,,Rozpoczynając pracę nad projektem The Chedi, stawialiśmy sobie jeden główny cel: harmonijne połączenie wystroju wnętrz z pięknem otaczającego krajobrazu. Stworzyliśmy innowacyjne, ultranowoczesne wnętrza zachowując urok alpejskiego hotelu i nie rezygnując z odniesień do natury" - wyjaśnia Jean-Michel Gathy.
Wolnostojące wanny Kaldewei – wyjątkowy element wyposażenia łazienek
Tak wyjątkowy, jak otaczający hotel The Chedi górski krajobraz jest każdy ze 104 luksusowych pokoi gościnnych, o powierzchni od 50 do 100m2. Wysokie standardy wyposażenia wnętrz tego nowoczesnego obiektu są szczególnie widoczne w ekskluzywnym wystroju łazienek, w których goście znajdą między innymi piękne, wanny Kaldewei Centro Duo Oval z obudowami wolnostojącymi. "Stylistyczna filozofia The Chedi stanowi połączenie unikalnego designu, doskonałej jakości oraz wielowiekowej tradycji regionalnej architektury. Uważamy, że każdy element wyposażenia powinien wnosić do projektu pewną wartość i być niezależny od obowiązujących trendów i mody. Ucieleśnieniem tych cech jest dla nas marka Kaldewei. Luksusowe, wyjątkowo trwałe, wykonane z wysokiej jakości stali emaliowanej wanny od razu zwróciły naszą uwagę i przekonały nas, że to właśnie firma Kaldewei jest idealnym partnerem w zakresie doboru ekskluzywnego wyposażenia hotelowych łazienek" – podkreśla Alain Bachmann, Dyrektor Generalny hotelu The Chedi. Cztery hotelowe apartamenty zostały wyposażone w luksusowe wanny Kaldewei Kusatsu Pool. W tym nawiązującym do japońskiej kultury kąpieli modelu, goście mogą wygodnie w pozycji siedzącej zanurzyć całe ciało w wodzie i rozkoszować się odprężającym masażem.
Hotel The Chedi wybiera wannę Conopool – najnowszy produkt Kaldewei
Strefę Spa oraz łazienki należące do luksusowych apartamentów hotel The Chedi zdecydował się wyposażyć w wykonane na indywidualne zamówienie wanny Conopool o wymiarach 195x145cm z systemem hydromasażu Vivo Turbo. Te największe na świecie wanny masażowe wykonane ze szlachetnej stali emaliowanej Kaldewei oferują gościom niepowtarzalny komfort kąpieli.
Od wielu lat marka Kaldewei znana jest na świecie ze swoich wyjątkowych osiągnięć w dziedzinie designu oraz z doskonałej jakości produktów. Wszystkie wanny, brodziki oraz powierzchnie prysznicowe Kaldewei wytwarzane są ze szlachetnej stali emaliowanej o grubości 3,5 mm. Ten unikalny materiał jest bardzo trwały, a przy tym odporny na uszkodzenia, dlatego nawet po długim okresie intensywnego użytkowania powierzchnia emalii wygląda jak w dniu zakupu. Potwierdzeniem wyjątkowej jakości produktów Kaldewei jest 30 –letnia gwarancja udzielana przez producenta na wyroby ze stali emaliowanej. W ten właśnie sposób firma Kaldewei oferuje inwestorom prywatnym oraz biznesowym luksusowe, trwałe i bezpieczne rozwiązania produktowe.
Firma KALDEWEI to europejski lider produkcji wanien, brodzików i powierzchni prysznicowych ze stali emaliowanej. Jako pionier i ikona stylu KALDEWEI prezentuje innowacyjne podejście do rozwiązań technologicznych i wzorniczych. Produkty KALDEWEI zdobywają prestiżowe wyróżnienia na całym świecie i są jednymi z najczęściej nagradzanych w branży łazienkowej. W ofercie firmy można znaleźć niemal 300 rozwiązań dedykowanych zarówno klientom indywidualnym, jak i profesjonalistom. KALDEWEI udziela 30 letniej gwarancji na wszystkie swoje produkty wykonane z 3,5 mm stali emaliowanej
Źródło: Kaldewei GmbH & Co. KG