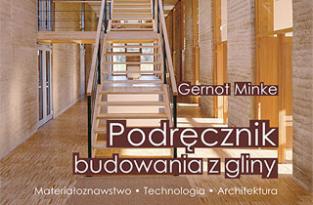 Podręcznik budowania z gliny to kompendium wiedzy popartej ponad trzydziestoletnią praktyką Prof. inż. Gernota Minke, który swoją karierę zawodową i naukową poświęcił propagowaniu i badaniu technologii wykorzystywanych w budownictwie naturalnym.
Od wielu lat książka ta była przygotowywana i oczekiwana na polskim rynku. To bodaj najważniejsza i najbardziej solidna praca o stosowaniu niewypalanej gliny w budownictwie: historii, właściwościach, technikach i przykładach. Oryginalny tytuł tej książki brzmi "Lehmbau Handbuch: Baustoffkunde, Techniken, Lehmarchitektur", czyli "Podręcznik budowania z gliny: materiały, techniki, architektura gliniana". Jest to praca dla budowniczych, architektów, miłośników budowania z materiałów naturalnych, dla laików i naukowców. Jest ona podsumowaniem kilkudziesięciu lat badań i doświadczeń jednego z wyjątkowych niemieckich badaczy i architektów — profesora Gernota Minke.
Tytuł: Podręcznik budowania z gliny
Autor: Prof. inż. Gernot Minke
Format: 210 mm x 280 mm
Ilość stron: 212
Okładka: Twarda, szyta, wydanie albumowe z obwolutą
Wnętrze: cz.białe + ponad 50 stron kolorowych fotografii
ISBN: 978-83-63834-00-5
DARMOWY FRAGMENT (przed korektą techniczną): KLIKNIJ TUTAJ > > > 6 mb PDF
DLACZEGO TA KSIĄŻKA JEST WYJĄTKOWA?
Książka ta jest prawdziwą perełką wydawniczą z trzech powodów:
PO PIERWSZE:
Autorem książki jest praktyk i naukowiec w jednej osobie. Oznacza to, że informacje zawarte w książce poparte są naukowymi badaniami oraz wieloletnim doświadczeniem autora jako konsultanta i wykonawcy bezpośrednio zaangażowanego w prace budowlane. Nie może być lepszej rekomendacji dla książki niż praktyka poparta dokumentacją naukową i na odwrót.
PO DRUGIE
Książka ma charakter praktycznego poradnika, dzięki któremu można łatwo wdrożyć zawarte w nim porady.
PO TRZECIE
Podręcznik budowania z gliny został wydany w formie solidnie wykończonego albumu.
Niemal 300 ilustracji, rycin i fotografii, specjalnie dobrany gatunek papieru o zwiększonej wytrzymałości i żywotności; wszystko po to, by ta wyjątkowa książka cieszyła czytelnika przez wiele lat.
Spis treści*
* Wymieniamy tylko tytuły głównych rozdziałów. W książce znajdziesz szczegółowe podrozdziały z wynikami badań oraz praktycznymi wskazówkami.
1. Wprowadzenie
2. Glina jako materiał budowlany i jej właściwości
3. Poprawa właściwości materiału poprzez specjalną obróbkę i dodatki
4. Obróbka wstępna
5. Glinobitka
6. Budowanie z cegieł glinianych
7. Elementy wielkowymiarowe i płyty z gliny
8. Formy tworzone bezpośrednio z wilgotnej gliny
9. Wypełnianie mokrą gliną konstrukcji szkieletowych
10. Ubijanie, wsypywanie i pompowanie gliny lekkiej
11. Tynki gliniane
12. Ochrona powierzchni glinianych przed wpływami atmosferycznymi
13. Naprawa elementów glinianych – Remonty zabytkowych budowli przy pomocy gliny
14. Rozwiązania szczególne
15. Nowe budowle z gliny
16. Wskazówki dotyczące planowania i realizacji budowli z gliny
17. Perspektywy
18. Wskazówki dotyczące literatury
19. Adresy firm
O autorze
Gernot Minke
Profesor dr inż. Gernot Minke jest emerytowanym nauczycielem akademickim Uniwersytetu w Kassel, kieruje na Wydziale Architektury Laboratorium Budownictwa Eksperymentalnego (FEB). Ponadto pracuje jako architekt i doradca w sprawach ekologii budownictwa a także jako rzeczoznawca i autor.
FEB powstało w roku 1974 i do roku 1977 zajmuje się głównie podstawowymi badaniami i rozwojem budownictwa z gliny. Jest to jedyna niemieckojęzyczna instytucja, która stale i już od ponad 30 lat zajmuje się tymi zagadnieniami. Przeprowadziła ponad 30 projektów badawczych i rozwojowych.Dotychczas nie wyznaczone, nowe parametry fizycznobudowlane i statyczne, dotyczące materiałów glinianych uzyskano przede wszystkim dzięki wspieranemu przez Ministerstwo Badań i Technologii w Bonn projektowi "Glina w budownictwie szkieletowym drewnianym" (1990-93) oraz finansowanemu przez Unię
Europejską projektowi "Unburned Clay Building Products" (1999-2001).
Doświadczenia dotyczące budownictwa z gliny w krajach trzeciego świata autor zbierał podczas pracy jako zaproszony wykładowca na wyższych uczelniach w Gwatemali, Paragwaju, Wenezueli i w Meksyku oraz w czasie podróży naukowych po Egipcie, Ekwadorze, Peru, Boliwii, USA, Indiach i Nepalu. W Gwatemali, Ekwadorze, Boliwii, Chile, Nigerii i Indiach autor miał możliwość realizacji inwestycji w ramach projektów badawczych i rozwojowych, stosując techniki opracowane, względnie udoskonalone, przez FEB. Począwszy od roku 1983 pod kierownictwem Gernota Minke prowadzone są wstępne kursy budowania z gliny dla architektów, inżynierów, rzemieślników oraz laików. Celem szkolenia jest zapoznanie w teorii i praktyce (podczas intensywnego, tygodniowego kursu) z podstawowymi wiadomościami o budownictwie z gliny. W roku 2007 powitano 2000 uczestnika szkolenia.
W jego prywatnym biurze projektów budownictwa ekologicznego powstały plany prywatnych i państwowych obiektów. Projekty te tworzono zawsze z uwzględnieniem aspektu ekologii a wiodącą rolę jako materiał budowlany pełniła w nich glina. Ostatnie 30 lat badań, nauczania oraz praktyki autor poświęcał budownictwu z gliny. Na początku swojej drogi zawodowej, po ukończeniu studiów architektonicznych, był pracownikiem naukowym u prof. dr inż. Freia Otto w Instytucie Lekkich Dźwigarów Powierzchniowych (Institut für leichte Flächentragwerke) Uniwersytetu w Stuttgarcie. Zajmował się tam wyłącznie teorią
i praktyką dotyczącą lekkich konstrukcji. Budował powłoki z kratownic drewnianych, obiekty namiotowe i hale pneumatyczne. Jego książki fachowe dotyczące budowania z gliny, z bali słomianych oraz dachów zielonych zostały przetłumaczone już na wiele języków.
Droga prof. Gernota Minke od lekkich konstrukcji budowlanych do budownictwa z gliny jest drogą od obiektów materiałooszczędnych do budynków powstających z myślą o oszczędzaniu zasobów naturalnych, o ochronie środowiska oraz o zdrowiu ich mieszkańców: o budownictwie ekologicznym. Przegląd jego dzieł daje książka z 2007 roku autorstwa A. Mahlke pt. "Schwerelos erdverbunden. Das Werk des Architekten Gernot Minke".
Publikacja jednojęzyczna, w wersji językowej:
- polskiej