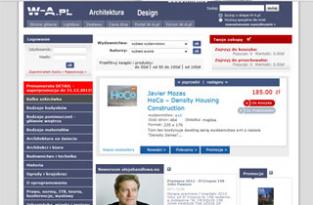 Mikołaj, Święta Bożego Narodzenia oraz Nowy Rok to okazja do dawania prezentów bliskim oraz kupowania odkładanych nagród sobie samemu - jedną z najczęściej wybieranych form prezentów są wciąż książki. Gdy w ciągu roku nie mamy czasu ani funduszy na zakup wyczekiwanej lub ulubionej książki to idealny czas następuje właśnie teraz. Stąd też zachęcamy do zakupu książek i albumów w Księgarni Portalu W-A.pl - kupując u nas, a nie w dużych sieciach handlowych wspomagasz całą inicjatywę o nazwie W-A.pl, w tym Portal Informacyjny W-A.pl.
Serdecznie zapraszamy do zakupów on-line oraz odwiedzin naszej księgarni w Krakowie (w siedzibie Stowarzyszenia Architektów Polskich w Krakowie, Pl. Szczepański 6).
Księgarnia czynna w tygodniu przedświątecznym - od poniedziałku do piątku w godzinach od 12.00 do 18.00.
Zapraszamy m. in. do skorzystania z wyjątkowo korzystnej oferty zakupu prenumerat magazynu DETAIL.