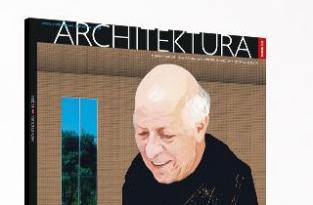 Od redaktora: Prezentacja spektakularnych budowli, które powstały dzięki funduszom unijnym, przygotowana przez Tomasza Malkowskiego i Tomasza Żylskiego z redakcji "Architektury-murator" na tegoroczne Forum Ekonomiczne w Krynicy, stała się tłem do szerszej dyskusji, czy z tych niezwykle potrzebnych pieniędzy realizuje się jedynie projekty efektowne, czy właśnie te, które są najbardziej niezbędne, w jaki sposób nowe inwestycje wpływają na ład przestrzenny oraz czy w dostatecznym stopniu przy ich przygotowywaniu wykorzystywane są konsultacje społeczne. W jaki sposób 67 mld euro, które otrzymaliśmy na lata 2007-2013, zmieni architekturę polskich miast? Relacja z Forum Ekonomicznego w tym numerze "Architektury". Ewa P.Porębska
INFORUM



Fundusze unijne zmieniają architekturę
Podczas tegorocznego Forum Ekonomicznego w Krynicy dyskutowano między innymi o europejskiej polityce spójności i funduszach strukturalnych, które pomagają likwidować różnice między poszczególnymi regionami krajów członkowskich. Jeden z paneli, poświęcony temu, jak środki unijne wpływają na architekturę polskich miast, współorganizował nasz miesięcznik.
Autor tekstu i zdjęcia: Tomasz Żylski; Tomasz Malkowski, redaktor "A-m" prowadzący portal Archirama.pl, podczas prezentacji najciekawszych polskich obiektów zrealizowanych dzięki funduszom unijnym
PREZENTACJE

Budynek biurowy Corporate Profiles na warszawskim Żoliborzu
(Autorzy: Bulanda, Mucha – Architekci sp. z o.o., architekci Andrzej Bulanda, Włodzimierz Mucha, Jacek Chyrosz)
Z okazji 20-lecia działalności pracowni Bulanda, Mucha -Architekci, obchodzonego hucznie jesienią tego roku, Tomasz Studniarek z Katowic powiedział, że to najbardziej śląska z warszawskich pracowni. Potwierdzeniem tych słów jest jedna z ich ostatnich realizacji w stolicy – adaptacja willi z 1934 roku na biura Corporate Profiles na Żoliborzu, gdzie międzywojenne wille sąsiadują ze współczesnymi apartamentowcami. Półtorej dekady temu według ich projektu rozbudowano jej część, dziś dla tego samego inwestora poddali metamorfozie drugi segment domu. To doskonała okazja, by zobaczyć, w jaki sposób na przestrzeni lat zmieniła się architektura tego duetu.
Autor tekstu: Tomasz Malkowski, il. szkic autorski, cała bryła budynku z lat 30. XX wieku. Po lewej segment przebudowany w połowie lat 90. z parterowym aneksem w miejscu dawnego garażu. Po prawej nowo rozbudowana część ze szklanym pawilonem wysuniętym w głąb ogrodu

Pawilon z okazji polskiej prezydencji w Unii Europejskiej
(Autor: Olafur Eliasson)
Eliasson, z typowym dla Skandynawów zacięciem społecznym i skłonnością do egalitaryzmu, twierdzi, że robi wszystko "dla Ciebie". Zapewnia o tym w tytułach prac: Your black horizon, Your mobile expectation, Your reality machine. Artysta pracuje jednak nie tylko dla Ciebie, lecz również dla Twojej władzy, dla instytucji, burmistrzów, korporacji. W przypadku warszawskiej maszyny mecenasem jest Narodowy Instytut Audiowizualny (NINA) - państwowa agenda odpowiedzialna za krajowy program kulturalny uświetniający polską prezydencję w UE. W zeszłym roku NINA we współpracy z Muzeum Sztuki Nowoczesnej ogłosiła międzynarodowy konkurs na Pawilon, który miałby być widocznym znakiem naszego przewodnictwa w Europie. Studio Eliassona pokonało w tych zawodach 6 innych pracowni, między innymi biura medusagroup i Centralę. W ten sposób wiemy już, skąd przychodzi Maszyna wyobraźni; przybywa z wymiarów polskich ambicji politycznych i artystycznego marketingu.
Autor tekstu: Stach Szabłowski, fot. Jakub Certowicz
TECHNIKA

Architektura poprzez technikę. Orientalne Centrum Sportu w Szanghaju
(Autorzy: gmp – von Gerkan, Marg and Partners)
Kompleks składa się z czterech obiektów: krytej pływalni, hali sportowej, otwartego basenu oraz centrum prasowego. W celu nadania wyrazistego charakteru architektonicznego całemu zespołowi, zaprojektowano powtarzalny moduł konstrukcyjny, służący do budowy przekryć dachowych poszczególnych części. Natomiast konstrukcje drugiego rzędu, oparte na układzie tych modułów, kształtowano indywidualnie, z uwzględnieniem wymogów bezpieczeństwa i wymiarów.

Autor tekstu: Maciej Lewandowski, na podstawie materiałów od biura gmp – von Gerkan, Marg and Partners; fot. © Marcus Bredt
OKŁADKA

Katarzyna Czapska, absolwentka Wydziału Grafiki Krakowskiej Akademii Sztuk Pięknych (dyplom 2004), projektuje plakaty teatralne, muzyczne, społeczne, reklamowe. Współpracuje z teatrami w całej Polsce, tworząc również oprawę scenograficzną spektakli. Jej pasją jest rysunek – ilustracje publikowała m. in. w "Twoim Stylu", "Życiu Warszawy", "Jazz Forum". Od stycznia 2011 roku na www.czapska.blogspot.com realizuje projekt Kal end Arz, który jest graficznym dziennikiem z jej życia, zapisem każdego z kolejnych 365 dni. Mieszka w Warszawie.