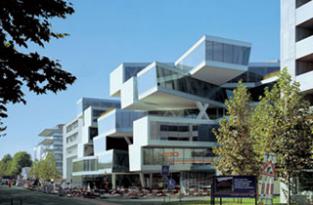 Najnowszy El Croquis to prezentacja nowych projektów duetu Jacques Herzog & Pierre de Meuron. Podwójny El Croquis zawierający projekty słynnego duetu Herzog & De Meuron z lat 2005-2010. Znakomicie udokumentowany projekt VitraHaus, projekty TEA, Tenerife Espacio de las Artes, CaixaForum w Madrycie i wiele innych, transformacie Tate Modern w Londynie, Elbphilharmonie w Hamburgu, Narodowy Stadion na Olimpiadę 2008 w Pekinie. Wstęp i wywiad autorstwa by Jean-François Chevrier.
To podwójne wydanie słynnego El Croquis ukaże się wkrótce - dostawa do klientów W-A.pl w styczniu 2011 roku.
Tutaj znajdziesz książkę w Księgarni W-A.pl > > >
Wszelkie zamówienia (przedsprzedaż - rezerwacja książki w pierwszej dostawie) na tę książkę realizowane będą po otrzymaniu dostawy od El Croquis.
Tutaj znajdziesz książkę w Księgarni W-A.pl > > >
Spis treści:
SUMMARY
PROGRAMME MONUMENT, LANDSCAPE
Chevrier, Jean-François

A CONVERSATION WITH JACQUES HERZOG AND PIERRE DE MEURON
Chevrier, Jean-François

TEA, TENERIFE ESPACIO DE LAS ARTES
PLAZA DE ESPAÑA
CAIXA FORUM MADRID
MESSEZENTRUM BASEL 2012
NATIONAL STADIUM, THE MAIN STADIUM FOR THE 2008 OLYMPIC GAMES
ELBPHILHARMONIE, HAMBURGO
ST. JAKOB TOWER
40 BOND, APARTMENT BUILDING
1111 LINCOLN ROAD
ESPACIO GOYA
ACTELION BUSINESS CENTER
VITRAHAUS
56 LEONARD STREET
TRIANGLE
PORTA VOLTA FONDAZIONE FELTRINELLI
CULTURAL COMPLEX LUZ
BARRANCA MUSEUM OF MODERN AND CONTEMPORARY ART
EXTENSION MUSÉE D'UNTERLINDEN
TRANSFORMING TATE MODERN
TRANSFORMACIÓN DE LA TATE MODERN
TRANSFORMING TATE MODERN
London, United Kingdom , -2005
CENTRO EMPRESARIAL ACTELION
ACTELION BUSINESS CENTER
Allschwil, Switzerland, 2005-2010
TORRE ST. JAKOB
ST. JAKOB TOWER
Basel, Switzerland, 2003-2008
PORTA VOLTA FUNDACIÓN FELTRINELLI
PORTA VOLTA FONDAZIONE FELTRINELLI
Milan, Italia, -2008
VITRAHAUS
VITRAHAUS
Vitra Campus, Weil am Rhein, Germany, 2005-2009
ESTADIO NACIONAL PARA LOS JUEGOS OLÍMPICOS DE 2008
NATIONAL STADIUM, THE MAIN STADIUM FOR THE 2008 OLYMPIC GAMES
Beijing, China, 2002-2008 [Competition First Prize]
TRIANGLE
TRIANGLE
Paris, Francia, -2006
CAIXA FORUM MADRID
CAIXA FORUM MADRID
Madrid, Spain, 2001-2008
ESPACIO GOYA
ESPACIO GOYA
Zaragoza, Spain , -2005 [Competition First Prize]
TEA, TENERIFE ESPACIO DE LAS ARTES
TEA, TENERIFE ESPACIO DE LAS ARTES
SANTA CRUZ DE TENERIFE, ISLAS CANARIAS, 1998-2008
ELBPHILHARMONIE, HAMBURGO
ELBPHILHARMONIE, HAMBURGO
Hamburg, Germany, -2003
EDIFICIO DE APARTAMENTOS EN 40 BOND
40 BOND, APARTMENT BUILDING
New York, New York, USA, 2004-2007
56 LEONARD STREET
56 LEONARD STREET
New York, New York, USA, -2006
BARRANCA MUSEO DE ARTE MODERNO Y CONTEMPORÁNEO
BARRANCA MUSEUM OF MODERN AND CONTEMPORARY ART
Guadalajara, Mexico , -2009
AMPLIACIÓN DEL MUSEO UNTERLINDEN
EXTENSION MUSÉE D'UNTERLINDEN
Colmar, France, -2009 [Competition First Prize]
1111 LINCOLN ROAD
1111 LINCOLN ROAD
Miami, Florida, USA, 2005-2010
COMPLEJO CULTURAL LUZ
CULTURAL COMPLEX LUZ
Sao Paulo, Brasil, -2009
FERIAL DE BASILEA 2012
MESSEZENTRUM BASEL 2012
Basel, Switzerland , -2004
PLAZA DE ESPAÑA
PLAZA DE ESPAÑA
SANTA CRUZ DE TENERIFE, ISLAS CANARIAS, 1998-2008 [Competition First Prize]
Publikacja wielojęzyczna, w wersjach językowych:
- angielskiej
- hiszpańskiej