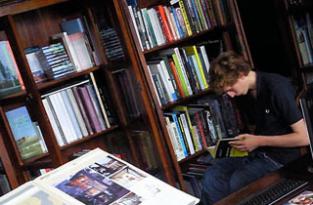 Ostatnie miesiące każdego roku to wzmożona uwaga czytelników zwłaszcza w przypadku książek branżowych - architektonicznych, projektowych i designerskich. W wrześniu i październiku każdego roku mamy okazję poznać sporą ilość znakomitych wydań albumów i książek oraz czasopism. Wiekszość wydawców prezentuje najlepsze premiery właśnie w październiku na światowych targach książki we Frankfurcie. Wszystkie te nowości pojawią się w księgarni W-A.pl w najbliższych miesiącach. Zapraszamy do zapoznania się z tymi tytułami, o których to będziemy regularnie pisać. Dodatkową zachętą dla naszych klientów niech będzie fakt, że to ostatnie miesiące, gdy książki sprzedawane są z zerową stawką VAT. Już 1 stycznia będzie obowiązywała stawka 5%, niestety...
W najbliższym czasie nowości przedstawią m. in. El Croquis (nareszcie dostępne 150 wydanie Chipperfield) z Hiszpanii, C3 z Korei, a+t z Hiszpanii, 010 Publishers z Holandii, niemiecki TASCHEN i wiele innych wydawnictw.
Do ciekawszych wydarzeń można zaliczyć także nawiązanie pełnej współpracy ze słynnym na świecie wydawnictwem ACTAR (Hiszpania) - już wkrótce praktycznie wszystkie książki o projektowaniu, architekturze i urbanistyce u nas (lista poniżej).
W Polsce także poznamy wiele nowych tytułów w tym m. in. "Obraz miasta" (Image of the City), którego to będziemy wyłącznym sprzedawcą wysyłkowym.
We wszystkie jesienne deszczowe wieczory i nie tylko zapraszamy do stałych odwiedzin Portalu i Księgarni W-A.pl. Przypominamy także o możliwości zakupów publikacji na prezenty (opcja pakowania).
Zapraszamy Was także na Targi Książki w Krakowie, gdzie będziemy mieć swoje stoisko oraz na kiermasze książki m. in. na Wydziałach Architektury w Gliwicach i we Wrocławiu.
Nowości w drugiej połowie 2010 roku to między innymi:

TASCHEN
Modern Architecture A-Z - mniejsze wydanie - wkrótce
Architecture Now! 4 (nowe wydanie) > > >
Shopping Architecture Now! - wkrótce
GREEN 2 MAGAZYN
Wkrótce 4 wydanie magazynu!
010 Publishers
MADE BY OMA - ETHNOGRAPHY OF DESIGN
C3
APARTMENTS TODAY
ARCHITECTURE FOR PUBLIC
CAMPUS ARCHITECTURE
CHURCHES
IDENTITY WORKSPACE
INNOVATIVE DIVERSION IN CAMPUS
MUSEUM & EXHIBITION
MUSEUM & GALLERY - TIME & PLACE
PERFORMING ARTS SPACE AND FACILITIES
PUBLIC SPACE FOR AMUSEMENT & ACHIEVEMENT
SEARCH C3 ARCHITECTS
URBAN FACILITIES
WATERFRONT;RESEWING THE CITY PLAZA
DLLE 10 02: SPAIN LANDSCAPE 2010 - URBAN HYBRIDS - EVOLUTION IN GENERATION
EL CROQUIS
EL CROQUIS 150 CHIPPERFIELD
EL CROQUIS 151 & 152 ....
ACTAR
Agenda. JDS Architects, Can We Sustain our Ability to Crisis?
Architecture Guide to Barcelona
Armani Ginza Tower
Blue Monday, Stories of Absurd Realities and Natural Philosophies
Collective Housing: A Manual
Domesticity at War
Emporio Armani Hong Kong
Formula New Ljubljana
From Control to Design, Parametric / Algorithmic Architecture
GeneroCity, Generous versus generic. A New Culture of More in French Contemporary Architecture
Global Housing Projects , 25 buildings since 1980
In the Chinese City, Perspectives on the Transmutations of an Empire
Kazuyo Sejima in Gifu
Mies Van der Rohe Award 2009, European Union Prize for Contemporary Architecture
MPreis
Multi-National City, Architectural Itineraries
Natural Metaphor, Architectural Papers III
OPOP
Project Zagreb, Transition as Condition, Strategy, Practice
Sanaa, Kazuyo Sejima, Ryue Nishizawa
Seattle Public Library
Self-Fab House, 2nd Advanced Architecture Contest
Self-Sufficient City, Envisioning the habitat of the futureSpacefighter, The Evolutionary City (Game:)
Total Housing, Alternatives to urban sprawl
DETAIL Magazine
Wydanie 2008-2010 - uzupełnienie DETAIL, DETAIL English, DETAIL GREEN oraz dwie książki - świeżo wydane:
Innovative Design + Construction
Featuring Steel
BIRKHAUSER
36 Propositions for a Home
Architecture
Architecture – a Synoptic Vision
Architecture by Herzog & de Meuron, Wall Painting by Rémy Zaugg, a Work for
Ausstellungen entwerfen / Designing Exhibitions
Basics Architectural Photography
Basics Barrier-Free Planning
Basics Construction Scheduling
Basics Designing with Plants
Basics Facade Apertures
Basics Glass Construction
Basics Materials
Basics Room Conditioning
Basics Spatial Design
Basics Urban Analysis

Basics Water Cycles
Beyond Modernist Masters
Building Projects in the European Union

Changes in Scenery
Cities of Change Addis Ababa
Concrete
Concrete Architecture
Contemporary History of Garden Design

Designing Public
Developments in Timber Engineering
Digital Eisenman
Digital Hadid
Digital Odyssey

Flush! Modern Toilet Design
Flying Dutchmen
Frank Lloyd Wright

Hyperbodies
Illuminating

Le Corbusier

Lighting the Landscape

Living Plans
Ludwig Mies van der Rohe
Marketing and Communication for Architects
Mies van der Rohe - Crown Hall
Mies van der Rohe, Federal Center Chicago
Mindscapes
Olympic Architecture

Portable Architecture

Relax

Shape as Memory

Steel and Beyond

Tadao Ando

The Contested Metropolis
The Force Is in the Mind
The Kitchen
The Other Office
The Presence of the Case Study Houses
The Villas of Le Corbusier and Pierre Jeanneret 1920–1930
Thinking Architecture
Timber Construction
typology+
Seating Together, Architecture of auditoriums in the 21st Century
GSD 08 Platform, A Year of Research through Studio Work, Theses, Exhibitions, and Conferences at the Harvard Graduate School of Design
Housing and Domestic Space in the XXI Century
E-City, Digital networks and cities of the future
Rolex Learning Center
INNE
A+T 35-36: PUBLIC - LANDSCAPE URBANISM STRATEGIES
ARCHIPRIX 2010
Best Designed Flagship Stores
Best Designed Wellness Hotels
Best Designed Wellness Hotels
Best Designed Wellness Hotels
Suvarnabhumi Airport Bangkok, Thailand
The Language of Fashion and Design
GREG LYNN: FORM
GA CONTEMPORARY ARCH 06: SCHOOL
ARKITEKTUR B: 54 DETAILS
JMR 92.02: JOAO MENDES RIBEIRO
SPANISH ARCHITECTURE 1997/2007
TWELVE NEW HOUSES IN JAPAN
FLANDERS ARCHITECT. YEARB. 06-07
STUDIES BY OFFICE RYUE NISHIZAWA od INAX
UNREAL ESTATES OF CHINA
VIENNA< >HONG KONG: LEARNING FROM ...
EMERGING HONG KONG ARCHITECTS
BELGIUM NEW ARCHITECTURE 2
FASTER AND BIGGER
EUROPAN 10 - INVENTING URBANITY...
TADAO ANDO: PROCESS AND IDEA od TOTO
MEGACITIES - EXPLORING A SUSTAINABLE FUTURE
SEARCHING FOR SPACE - ON THE ARCHITECT HERMAN HERTZBERGER
THE SPECIFIC AND THE SINGULAR ARCHITECTURE IN FLANDERS 2010
FUMIHIKO MAKI - NOVARTIS CAMPUS SQUARE 3
ARCH_MANUAL - ECOLOGY+SUSTAINABLE+CITY FUTURE
SALOTTOBUONO - MANUAL OF DECOLONOZATION
BORDER CONDITIONS DELFT ARCHITECTURE SERIES
DAVID ADJAYE - OUTPUT
TOKYO METABOLIZING - KITAYAMA/TSUKAMOTO/NISHIZAWA
VENTURI, SCOTT BROWN, IZENOUR AT ACADIA SUMMER ARTS PROGRAM
SHANGHAI NEW TOWNS - SEARCHING FOR COMMUNITY AND IDENTITY IN A SPRAWLING METROPOLIS
CIRCUMSTANCES - THE WORK OF MEYER AND VAN SCHOOTEN ARCHITECTS
CULTIVATING THE CITY - LONDON BEFORE AND AFTER 2012
URBAN ASYMETRIES - STUDIES AND PROJECTS ON NEOLIBERAL URBANISATION
GAME URBANISM - HANS VENHUIZEN
ON THE BANKS OF BAYOU CITY: THE CENTER FOR LAND USE INTERPRETATION IN HOUSTON
ATLAS OF THE CONFLICT: ISRAEL-PALESTINE
TOWN PLANNING IN THE NETHERLANDS 1850 - 2000
AMSTERDAM WEST: PUBLIC LIFE IN THE POST-WAR CITY DELFT ARCHITECTURE SERIES
HYBRID BUILDINGS: PROJECTS FOR THE DUTCH CITY DELFT ARCHITECTURE SERIES
i wiele, wiele innych